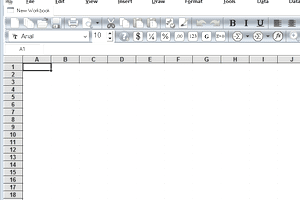 Accel Spreadsheet is the free spreadsheet program that's taken from SSuite Office, which is a full office suite that includes a word processor and other free software.
One unique feature of Accel Spreadsheets is its ability to open files from online storage services.
Pros
Quick download
Simple installer
Supports basic file formats
Portable options available
Note: QT Calc Express is designed differently than the full program, but is completely portable.
For an identical, but portable, version of the full program, you must download the entire SSuite Office software, which also includes WordGraph, a file search tool, and various other utilities.
Cons
Slow installation
Installs other utilities you may not want
Crowded toolbars
No spell check
Supports a small number of file formats
Description
Works with Windows 8, 7, Vista, XP, and 2000
Accel Spreadsheet is able to open and save to basic file formats like CSV and and TXT
An advanced print preview lets you see live changes on how the print will look as you modify things like whether or not to print row and column headings or grid lines. You can also change the paper size and orientation from the same screen
Cells can be formatted for a currency, percentage, fraction, date, time, or scientific data
Accel Spreadsheet's cell contents can be aligned within the cell and set to bold, italic, and/or underline
Functions are separated into eight categories like reference, statistical, time, and logical
The find utility can optionally search in formulas as well as a cell's regular content
You can switch to fullscreen mode to hide the toolbars and create a more open experience
2D and 3D charts can be inserted into an Accel Spreadsheet file, as well as pictures, list boxes, emoticons, check boxes, the current date and time, and random numbers
Cell data can be converted from decimal to binary/octal/hex and vice versa
You're able to draw a line, rectangle, oval, arc, or polygon directly on a sheet
A list of common words or sentences can be created in Accel Spreadsheet so you can insert the phrase from a simple list at any time
Option to open files directly from three online storage services: Dropbox, FileSplat, and OneDrive
Data can be quickly sorted in ascending or descending order with one click on the toolbar
You can connect data sources to import content from a database
Worksheet attributes can be changed, such as a cell's background color, pattern, and border; a row's height and hidden status; a column's width and hidden status; the position of the sheet tabs on the screen; and the worksheet's background color
Custom auto full lists can be created, such as auto filling the days of the week or holidays in a year
My Thoughts on Accel Spreadsheet
Given that better spreadsheet programs like Kingsoft Spreadsheets and OpenOffice Calc are available, I don't recommend using Accel Spreadsheet.
I don't like that there isn't a spell check option, that the program itself is hard to look at, and that it doesn't let you open a wide variety of file formats.
If you want any of these options, choosing one of the aforementioned programs is surely your best bet.
My criticism doesn't stop there though. I say above that you can open files from cloud storage services. While it's true that the option is present, I wasn't able to get all three programs to work, which is unfortunate.
I do like, however, that, unlike Kingsoft Spreadsheets and OpenOffice Calc, you don't need to download an entire office suite just to use the spreadsheet program. This goes for both the portable and regular installer option.
Quite honestly, that's the only feature I like about Accel Spreadsheet. If for some reason the other programs are just too much to handle, Accel Spreadsheet can still be used for a variety of formulas and other basic spreadsheet needs.
All in all, I highly recommend the other programs before this one.