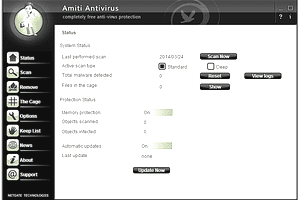 Amiti Antivirus is a simple and free antivirus program for Windows. There aren't a lot of settings or options but it does monitor/scan running files automatically and supports periodic updates to its databases.
Important: Amiti Antivirus provides constant virus protection, also called on-access or resident protection, for free. This means that Amiti Antivirus can completely replace antivirus software from companies like McAfee and Norton that charge for their software and for yearly access to updates.
Pros
Scheduled scans
Well-organized menus
Automatic updates
Context menu integration
Easy to use
Multiple scan options
Cons
No built-in firewall
Can not exclude specific file types from a scan
No USB or email scan settings
More Information on Amiti Antivirus
Works with Windows 10, Windows 8, Windows 7, Windows Vista, and Windows XP
A quick, system, full, or custom scan can be performed
Amiti Antivirus can update as often as every 60 minutes
A scheduled scan can run a memory, registry, cookie, and/or regular hard drive scan
Quarantined files are kept in The Cage so you can restore or permanently remove files marked as infections
Amiti Antivirus can also delete temporary Internet Explorer files and temporary system files
My Thoughts on Amiti Antivirus
As I say above, there isn't much to Amiti Antivirus, but I do like how easy it is to access the settings and options.
It's unfortunate, though, that you can't exclude certain file types from a scan, such as video or music files, like you can with Baidu Antivirus and other similar programs.
Overall, even without the settings I wish were included, Amiti Antivirus is still a solid antivirus program that fortunately can scan and update automatically to provide a good, continual defense at absolutely no cost.