7 Ingredients That Can Replace Nuts in Baking
Nuts Can Be Expensive and They Are Not Always Necessary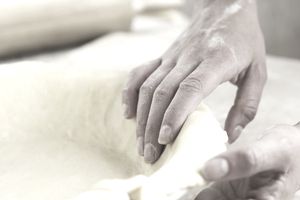 Nuts lend a nice texture to baked goods, but they also add to the cost of baking. There are a number of alternatives that can replace nuts and save money at the same time.
Finding Baking Substitutes for Nuts
First of all, it's important to know what qualities that nuts add to baked goods. There is, of course, the nutty flavor. They also add texture and crunch to cookies, cakes and muffins.
When looking for substitutes, think about what that particular nut brings to the recipe you're working with. This will help guide you to a cheap alternative without sacrificing the finished product. 
For example, pecans are rich and buttery, almonds are crunchy and have a delicate flavor and macadamia nuts are creamy. 
You will also want to think about how the nut is prepared and how that size compares to your substitute. Chopped or sliced nuts have a similar density and volume as oats and rice cereal, so it is likely that you can use the same measurements for your substitute.
On the other hand, if whole nuts are called for in the recipe, you may need to reduce the amount for the smaller-sized substitutes. If you don't your cookies could be overwhelmed with oats.
In most instances, you can even skip the nuts altogether. You will lose that crunch, texture and flavor, but most baked goods can stand on their own without nuts.
Popular Nut Substitutes
Oatmeal or Rolled Oats: Great for texture and taste. Add a roasted oat flavor by gently browning oats with just a little bit of butter.
Granola: Add extra flavor to rolled oats with a simple and cheap homemade granola. Skip the almonds, raisins and sesame seeds if you like.
Crisp Rice Cereal: All of the texture and crunch found in nuts! You might want to use less cereal because it tends to have smaller kernels.
Pumpkin or Sunflower Seeds: Unsalted seeds are a nice substitute in nut muffin recipes and they can be roasted for more flavor. Pumpkin and squash seeds add a seasonal flair for autumn. As some seeds are also small, it might be best to reduce the amount you use.
Raisins: A perfect substitute in nut cookies because of the extra flavor.
Dried Cranberries: Similar to raisins, dried cranberries add a nice touch to muffins and the right cookie recipe. They are perfect for holiday baking and often on sale during that season.
Chocolate Chips: When in doubt, add chocolate chips, right? Every baker should have a bag or two of cheap chips in their stash just in case and this is a perfect example. White chocolate chips are not as melty as regular chocolate, so they also add a nice texture.