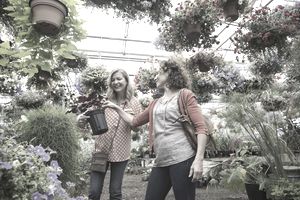 If you want to spruce up your yard on the cheap, the best time to buy plants is...September and after.
Home improvement stores and nurseries are eager to clear out all remaining summer plants (trees, shrubs, bulbs and perennials) to make room for incoming fall plants and holiday merchandise. However, it is possible to find great bargain plants throughout the year.
Save Money on Perennial Plants
Autumn is actually the second best time to plant many trees, shrubs and perennials.
The weather is cooler, the ground should have plenty of moisture and an early fall planting will give the plants time to adjust before winter hits.
This is perfect timing if you're looking to get a bargain at the greenhouse. Perennial plants - those that do not need to be replanted each year - are what you will find in the markdowns at the end of the gardening season. This is the time to pick up the most expensive plants like large shrubs and good-sized trees.
Tip: If you have a green thumb and are willing to take the chance, look for weak or imperfect plants that other shoppers may pass by. Ask the nursery for a discount. It's very likely that with a little attention and proper care, that sickly plant will be perfectly healthy for years!
Don't forget to pick up spring flowering bulbs. Autumn is the perfect time to plant tulips, daffodils and other bulbs and many stores have great deals during this season.
Skip the Store and Find Free Perennials
Gardeners are always giving away hardy perennial plants. Healthy plants will quickly grow and spread and gardeners often need to divide and thin out their perennial flowers and herbs. This is a great way to score free plants for your garden.
Talk to your gardening family, friends and neighbors and ask if they are dividing any plants that year.
Keep an eye on the free listings in your local papers and online listings like Craigslist. You can find a variety of free plants all year long.
Save Money on Annual Plants
Annuals are plants that need to be planted every year. They include popular bedding plants like petunias, pansies and impatiens as well as most vegetables and many herbs like basil, cilantro and parsley.
The seasonal nature of annuals means that greenhouses and nurseries try to get rid of them early in the season. Look for markdowns on annuals anytime from June through the end of summer.
Tip: If you find a deal on annuals late in the season, pot the plant and be ready to bring it inside when the weather turns cold.
You may only have to buy annuals once! Learn how to identify and collect the seeds of flowers, vegetables and other annual plants and save them until spring.
Collect seeds from the garden and keep them separated by placing them in small zipper bags. 
Be sure to label each bag with the plant and the year you harvested the seeds.