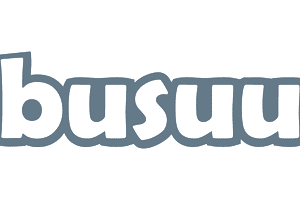 busuu is a free language learning website that both connects you with millions of native speakers and gives you access to interactive resources to help you learn a new language.
The website and language learning mobile app are both very user friendly and simple to use. There's even a kids version available.
Languages You Can Learn at busuu
Arabic, Chinese, English, French, German, Italian, Japanese, Polish, Portuguese, Russian, Spanish, Turkish
How busuu Works
After choosing the language you'd like to learn, you can create a new busuu account or login with Facebook or Google.
There are different sections of the site that are free to use, called Lessons, Practice, and Vocabulary, that you can access through the menu at the top of the screen.
The free lessons range from beginner and elementary up to intermediate. You're able to skip around from the tasks in one lesson into the other lessons without having to complete them, which means you can skip ahead if you know you're ready for more difficult tasks.
Some of the lessons are locked, and only available if you pay for a subscription, but there are still lots of lessons available for free users. There are also some business and travel courses you can take for free.
The lessons at busuu include images, audio, and text all mixed together to help you remember the concepts. You can always listen to phrases over and over again as many times as you need to, as well as move back through a lesson.
You're always quizzed immediately after you've learned a few things, which is great. busuu doesn't wait until you've learned dozens of concepts before it tests you, which is one thing I like about it versus traditional language learning textbooks.
If you're stuck on a word or would like to ensure you remember it, you can always add it to your vocabulary list.
This is really just like a bookmark for that particular word or phrase, which you can access from the Vocabulary menu. Additional features, like downloading a PDF of your vocabulary list, are available only for premium members.
The Practice section of busuu is a language exchange service. You can chat with native speakers of the language you're learning, as well as correct text written in the language that you understand. 
As you move through lessons and help other people in the busuu community, you'll earn what's called busuu-berries. These are basically just points that you are rewarded for your learning efforts. The busuu-berries can be sent to friends, used in the busuu shop for animated gifts, and as discount vouchers for subscribing to the premium version.
My Thoughts on busuu
I recommend busuu for language learning if you're new to the language in question, but also if you know it well and are trying to improve. All the free lessons will be very helpful, and the fact that you can chat with native speakers is just another great reason to use it.
As with any website or service that offers a paid version, you'll run in to several requests to upgrade busuu to the premium membership.
You of course are not required to, as there is no trial put in place nor is there a daily limit to how much you can learn. Instead, extra lessons and some features here and there are not supported with a free account.
If you do decide to upgrade, you'll get an ad-free experience, access to learn all the languages at once instead of just a few, voice recording, faster writing corrections, and more.