Classic Cinema Online
Why You Should Watch Free Movies at Classic Cinema Online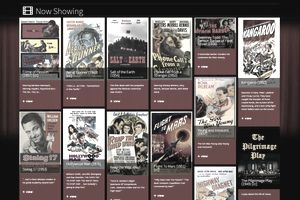 Classic Cinema Online streams free online movies, covering the normal genres you'd expect, all the way from comedy to drama. What really makes Classic Cinema stand out from the rest is their rather large selection of silent films.
While there's only a large handful of movies at Classic Cinema Online, if you love classic and silent movies, you really need to check it out. It's a good stroll down memory lane and a look at classic film making at its best.
Classic Cinema Online's Free Streaming Movies
Classic Cinema Online has a variety of movie genres. Comedy, Documentary, Music, Sci-Fi, Western, Family, and Holiday are some of the regular genres that you'd expect to find on a streaming movie website.
The silent film categories at Classic Cinema Online are similar, with Mystery, Thriller, Drama, Westerns, Horror/Sci-Fi, Action/Adventure, and Romance movies. You'll find that most of the silent movies are comedies including titles like The Cameraman, The Circus, The Poor Little Rich Girl, and others.
There's a section for the latest movies at Classic Cinema Online so you can be sure to find the most recently added movies. They also have a great selection of holiday movies and other seasonal goodies and show holiday classics like A Christmas Story, It's a Wonderful Life, Scrooge, A Christmas Carol, and Santa Claus Conquers The Martians.
You'll also find a category of Serial movies that cover action, adventure, crime, sci-fi, war and military, and western. These are films that are in episodes or chapters, organized much like a TV show.
Some other movies you'll find on Classic Cinema include Love Story, Charade, Stagecoach, Holiday Inn, Change of Habit, Penny Serenade, and many other classic and silent movies.
Classic Cinema Online's Video Quality
Many videos at Classic Cinema Online are available in both 144p and 240p, but there may be some that are of higher quality.
The movie plays right in your browser from in a YouTube video player, making it easy to browse through the film, view it wide screen, and control the volume. In addition, subtitles are available on many of the movies.
Where Classic Cinema Online Gets Its Movies
Movies found at Classic Cinema Online are not hosted on their website but are instead are found on YouTube.
Different companies can upload their movies to YouTube, from which Classic Cinema Online may include in their movie catalog.
System Requirements for Classic Cinema Online
It's important to have the following when viewing movies at Classic Cinema Online: Adobe Flash Player with the Google Chrome, Firefox, Internet Explorer, Safari, or Opera browser. It's also recommended to have an internet connection that supports 1 Mbps download speeds.