Want Pet Coupons? Go Straight to the Source
How To Get Coupons for Your Favorite Pet Food Brand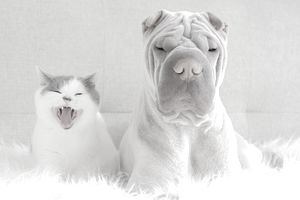 Serious coupon clippers are always looking for ways to collect coupons. For pet owners, finding coupons for pet food and pet treats can be a real money saver. While there is a steady stream of pet related coupons available, many times the coupons are usually for the same brands. That works out great if these are the brands a pet owner wants to feed their pet. When this is not the case, finding coupons for the brands pet owners prefer can be a real challenge.
Continually switching the brand of food fed to a pet can cause your pet digestive problems. It should be done gradually and with care. Changing pet food simply because there are coupons available for a particular brand might save money at the grocery store, but could end up costing more in veterinarian bills.
One way couponers find the coupons for the brands of pet foods that they regularly buy is by contacting the pet food companies directly and asking for coupons. This can be done by emailing or writing a letter to the company. Not only does it improve the chance of getting coupons, but some companies will include coupons for free products or small sample packages.
Stress the Positive When Contacting Companies for Coupons
When contacting companies for coupons, it is important to keep the tone of the note positive. Avoid phrases such as, "Your product is too expensive." or "The packaging is cheap!" Both statements are negative and might put the person receiving your email on the defense.
Instead, compliment how easy the packaging is to open. Describe how people always rave about how beautiful your pet's coat looks and that you attribute it to their brand of food. Mention how your pet used to be a finicky eater until you started feeding them their brand and that it was love at first taste.
It does not have to be a letter full of lies. On the contrary, you probably have very good reasons for sticking to specific brands. All that is required is that you recall what the reasons are and write about it.
Once you have established that the product is great, tell them that you have looked all around for coupons for the brand, but have been unable to find any and can they direct you where you should go.  Ask if there is an online survey that you could take in exchange for coupons. Then be sure to include your email or return address so that they can quickly send some to you.
Sign Up for the Company's Newsletter
Another way to get coupons for pet food and pet snacks is by visiting the company's or brand's website and look to see if they send out newsletters through email. Many times manufacturers will include coupons and other promotional information in their newsletters.
Many companies have loyalty clubs that allow you to earn points for coupons or free food, rebates, and free entries into contests. Sign up to become a member and start reaping the rewards.
Keep a Simple Log
When you begin a campaign of writing companies for coupons, you will want to keep track of your correspondence.
Keep a simple log with the date that you sent the note; the company you sent it to, and if it was through email or snail mail.
The log helps to prevent sending additional notes in error. It will also help you keep track of when to check emails and junk mail for the company's response. Coupons sent directly from a company often have higher face values and have longer expiration dates, Having them lost in a full email box or a pile of junk mail would be counterproductive, so manage your email files continually.
Contact Information
Below is a list of manufacturers that make popular brands of dog and cat food. The links will take you to the websites where you can find contact information, physical and email addresses, as well as company phone numbers.
Breeders Choice
Purina Deli-Cat Cat Food
Deramaxx
Purina Kit 'n Kaboodle
Moist & Meaty
Purina Puppy Chow
Purina Kittenwise
Purina One
Purina Pro Plan
Scoopex (free sample)