Crackle Review
My Thoughts on Crackle, a Free Movie & TV Show Streaming Service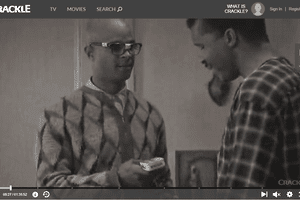 Below is my review of Crackle, which is a website that lets you stream free movies online and watch free TV shows.
Crackle may not have the best video quality, and it's true that you must watch advertisements during videos, but it's still the best website for watching both older and newer movies and TV shows.
Crackle's Free Movie Selection Is Excellent
I've used several different websites to watch free movies and TV shows, and Crackle certainly has many more newer videos than those you may find on similar sites.
Crackle usually has over 100 full-length movies and full episodes from over 50 different TV series. Ones that were released in the 1960's all the way up to more recent years are freely available, which is much better than similar websites that only have older movies.
Crackle keeps videos during a particular time frame and then removes them. This means if you watch part of a movie one day, it's quite possible it could be gone the next before you can finish it. While this isn't ideal, I think it's still fine because I generally watch a movie from beginning to end. Plus, the movies are free, so it's hard to complain.
Video Quality on Crackle Is Good, Not Great
You can easily adjust the quality of movies and TV shows at Crackle to work best with your Internet speed. Video resolutions cap out at 480p, though, which is too bad if you're looking for super high-quality videos. 
If viewing movies and TV shows on a very large, high definition screen, this relatively low quality will surely be noticed.
However, the movies I watched seemed about as clear as a regular DVD on my computer screen.
Crackle's Player Options
I find the closed captioning settings in Crackle's video player very handy, and they allow you to truly customize the way subtitles appear for any video you're watching. In the video player, you can open the CC/SUB options and change the language, adjust the font type and size, alter the foreground, background, and border color, as well as adjust the opacity of the text.
Unfortunately, the closed captions settings you configure do not apply to any video but the one you're watching. Though adjusting the subtitles like this may simply be preferred if you're watching a movie that's primarily dark or light so you can apply the opposite effect to make the text readable.
I also like that Crackle's movies and TV shows can be displayed in full-screen mode to get that theater-like experience at home.
Crackle Has a Lot of Ads, but They're Worth the Trouble
Because Crackle is free, it uses advertising in both movies and TV shows. One appears at the beginning of every video and then more will appear as you watch more of the video. The shorter the video you're watching, the fewer advertisements you'll see, which seems appropriate. For example, a 20-minute episode of a TV show has three advertisements whereas a movie that's an hour and a half may have as many as nine.
I like that you can clearly see where the advertisements are at in a video. If you put your mouse into the video player and attempt to fast forward, you'll notice small gray dots, which indicate advertisements. It is fortunate these are here so you know how far you can progress the video without having to watch an ad.
Advertisements tend to be longer than I'd expect. On a few occasions, as I'd skip forward in the video, multiple ads would play back to back. In these circumstances, the ads would last a little over a total of a minute, which is still tolerable.
My Video Buffering Experience With Crackle
As for buffering, I had absolutely no hiccups or stalls when watching several TV shows and movies. From the moment a video started to the point that an advertisement would show, I had no delays due to buffering. I also never experienced delays when starting a video midway – it would begin to play from wherever I wanted just moments later.
I've seen many comments on many movies on Crackle where someone states that the video is too hard to watch because it takes too long to buffer. As I said, I, personally, have never had any problems with movies and TV shows buffering.
Whether or not your own experience will match mine depends entirely on your own Internet and computer speed.
Crackle's Mobile App Is Fantastic
Though I've only used it on an iOS device, I really like Crackle's free movie app. 
The main page shows featured movies and shows, and the next two sections of the app separate movies and TV shows into their own categories. As you move down the app in either section, you can find the most popular videos, those that were recently added, and then all the videos in their own genre.
It's super simple to use the app because while it shows all of Crackle's content, it's all organized very well to prevent clutter. You can move left to right in each genre to find all the movies and shows that belong in it. When you choose a video, you can find all the details you can see on Crackle's desktop site, such as the cast, description of the video, and rating.
You can also share the video over social networks, SMS, or email. The CC/SUB settings I described above in the "Player Options" section is also available in Crackle's mobile app, which certainly surprised me.
Crackle: Final Thoughts
Crackle is a great website for watching free movies and TV shows online. As I say above, the quality is decent, advertisements aren't too terrible, and I've had no issues with a video pausing while buffering.
Whether you're looking at movies or TV shows, the menus at the top make it extremely easy and quick to change the genre. You can, of course, view all the genres together if you want, as well as sort alphabetically or by release date.
I also like the Social Sharing abilities of Crackle. If you like to share what you're watching, like, comment on, rate, etc., you can have these detailed shared on Facebook automatically while you use Crackle.