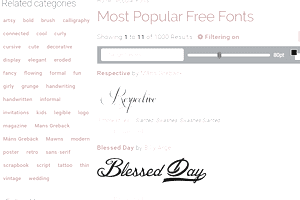 FontSpace is a popular website for finding free fonts. They currently have hundreds of thousands of users, over 29,000 free fonts, and over 2,000 designers that share their fonts on the website.
The website makes it easy to find popular, new, and random fonts that are free to download, and you can even do it without having to login to a user account or fill out any information at all.
How to Find Fonts at FontSpace
Click the POPULAR button at the top of the FontSpace website and you'll be shown the top 1,000 free fonts that they have available. I love this feature and it really makes it easy to see some great quality fonts quickly.
Another way to browse the free fonts is to use the BROWSE menu. In that menu is a number of submenus to help you find trendy fonts, basic font styles, decorative fonts, extreme styles, foreign looking fonts, holiday fonts, and many others. Plus, within those categories are even more subsections to help further narrow down your search.
On the left side of the FontSpace website are tags that help you find fonts identified by keywords like elegant, formal, fun, wedding, magazine, cursive, eroded, vintage, invitations, kids, logo, curly, brush, connected, poster, and several others.
FontSpace also has a NEW menu at the top of the website to see the 1000 most recently added fonts, and a RANDOM button to show you 10 completely random fonts that you may like.
Preview Many Fonts All At Once
I simply adore the way you can preview fonts at FontSpace. It makes it so quick and easy to find your next favorite font.
At any time, as you're looking at the search results for the fonts you can download, you can type in custom text and change the size of the font to see exactly how each font in that list would look if you were to download and use them.
You can also get this same preview even if you're looking at a single font.
Downloading the Fonts Is a Breeze
It took me less than 10 seconds to download a font at FontSpace. When you find one you like, just click the DOWNLOAD button to start downloading the font in a ZIP file.
Once downloaded, you should be able to open the ZIP file and then see the font inside. If not, you can download free file extractor to get the font out of the archive.
See this if you need help installing the font so you can use it with the software on your computer.
More Information on FontSpace
You can optionally sign up for a free account at FontSpace if you want to communicate with other users, comment on the fonts, rate fonts, upload your own custom fonts, and keep track of your favorite fonts by adding them to a list.
On each font's download page is information on how you can use the font, like whether or not it's only available for personal use. It's here that you can also contact the designer and donate to the designer.
FontSpace has an RSS feed (here) that you can subscribe to if you want to be alerted when new fonts are added to the site.
There's also the FontSpace blog that you may be interested in, which sometimes updates with font-related tips and news.