Free Apple Camp for Kids
Free Apple Camps for Kids in Coding, Movie Making, and Book Authoring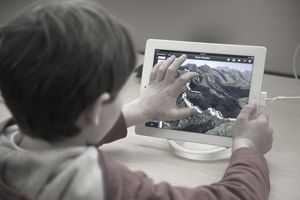 The Apple Camp's Workshops are returning for summer 2017! Sign up for Apple Camp notifications to find out when registration will open.
Apple Camp is a free camp for kids that takes place each summer at Apple retail stores. These three-day camps give kids the opportunity to use Apple products to create projects that showcase their creativity.
Apple Camp's take place at your local Apple Store. Most locations participate in Apple Camp, but you can call the location near you to verify that they are taking part.
Apple Camp's Workshops for Summer 2016
Each summer there are different workshops available. Here are the workshops taking place for the summer of 2016.
Coding Games - The kids will be using a visual block-based coding system to create games using skills including problem-solving and pattern recognition. Once they learn the bases of coding, they'll use to program their own robots.
Creating Movies - They'll create movies all the way from storyboarding, shooting video, and then using iMovie on Mac to edit their films.
Authoring iBooks - Campers will get to use iBook Author to create an interactive book including storyboarding ideas and then writing the story. They'll also be drawing illustrations on an iPad and then adding sound effects.
Kids will get to choose which of these areas they would like to focus on and then spend three sessions of 90-minutes learning and creating.
Apple Camp Eligibility
Apple Camp is for kids ages 8 to 12.
Signing Up for Apple Camp
Visit the Apple Camp website and choose your local Apple Retail Store.
If registration is currently open, you'll be able to select the workshop your child would like to attend to view the availabilities. Click Reserve to select a workshop.
Fill out the form with your name, email, phone number, and child's name.
Click Submit Reservation to complete the sign-up.
What to Bring to Apple Camp
Kids will need to bring their parents to each day of Apple Camp and they'll need to stay for the duration.
Kids who are attending the movie making workshop will need to bring a digital video camera. If they don't have one, they can borrow one from the Apple store.
Apple Camp Restrictions
There's a limit of one Apple Camp workshop per child, per summer. Space in the Apple Camp is available on a first come, first serve basis.
Apple Camp Field Trips for Students
If your kids want even more fun at the Apple Store, they can persuade their teacher to sign up for a field trip at the Apple Store. Here are the field trip themes available, each encourages students to use technology to expand their creativity.
Discovery and Experimentation - Students will run experiments while testing their theories.
Interactive Storytelling - Students use their creative to create interactive stories they can share with their classmates.
Digital Marketing - Students will create digital projects that will spark action in topics important to them.
Content for the Classroom - In this field trip for teachers, they'll get to learn how to use Apple products and incorporate it into their curriculum.
Free Workshops for Adults at The Apple Store
There's no reason to be jealous of the Apple Camps for 8-12 year-olds when adults can take a variety of free hour-long workshops at their local Apple Store.
These workshops include learning how to use an Apple Watch, download music, how to use a Mac, iPhone basics, iPad basics, how to use iCloud, how to take pictures and videos with an iPhone, how to edit photos, create movies with iMovie, and how to use Keynote for Mac.