Free Donuts on National Donut Day 2017
National Donut Day: Where You Can Go to Get a Free Donut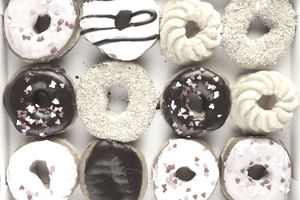 Updated for National Donut Day 2017
National Donut Day, or National "Doughnut" Day, was created by The Salvation Army in 1938 to honor those who served doughnuts to soldiers during World War I. Many donut shops like to celebrate this day by giving away free donuts.
This year in celebration of National Donut Day you can get free donuts from Krispy Kreme, LaMar's Donuts, Dunkin' Donuts, and more.
National Donut Day 2017
National Donut Day is on the first Friday of June each year.
This year it's on Friday, June 2, 2017.
Where to Get Free Donuts on National Donut Day
Here's a list of where you could get free donuts to celebrate National Doughnut Day in 2017. 
Krispy Kreme - You can go to your local Krispy Kreme on National Donut Day and get any doughnut for free, no purchase necessary.
Dunkin' Donuts - Dunkin' Donuts is giving away a free classic donut of your choice with a purchase of any beverage on June 2nd. A small regular coffee shouldn't set you back too much. Here are their locations.
LaMar's Donuts - Visit LaMar's Donuts on Friday, June 2nd to get any donut that has a hole for free. There's absolutely no purchase necessary. Be sure to show your golden ticket to get your free donut. Here's a list of locations.