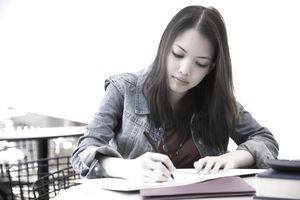 These free English worksheets are a great way to test yourself to see if you're understanding the essential concepts of the English language. Below are dozens of free worksheets that you can print off or view on your computer to see just how well your learning is coming along.
If you find these to be too difficult, consider taking free online English lessons and free English games to learn more about what's in these worksheets, and then come back and take a second look.
There are also several free language learning mobile applications that can teach you English when you're away from your computer or free language learning websites that you can use when you are on your computer.
See How Well You Can Write Numbers in English
Learning numbers may be the most basic thing you learn with any language. Download these free English worksheets to see how well you know the English words for various numbers.
Not only can you use these worksheets to see if you can write the correct word for each number, but you can also compare the structure of each letter with the answers to verify that you're drawing them accurately.
Download PDF - Write the word for each given number, and then fill the words into the crossword puzzle. Answers aren't given, but you'll know if you're correct if when the puzzle has been solved.
Download PDF - Count the number of objects in each picture, and then write that number as text below the image. Check your answers on the second page.
Download PDF - Count and write the number of blocks in each question.
Free English Worksheets Over the Alphabet
As with any language, it's essential that you know the English alphabet. Below are worksheets you can fill out to test whether you're on track with the ordering and writing of the letters.
Test Your English Colors With These Worksheets
Download these free worksheets for different methods of verifying that you know your colors in English.
Download PDF - Match each color splash with the written word. Answers can be found here.
Download PDF - This is very similar to the previous worksheet but you're instead given six words for each color, and you must choose only the correct one. Click here to see the answers.
Grammar, Vocabulary, Punctuation & Spelling Worksheets
There are lots of rules when it comes to building sentences in English. Below are several worksheets you can download to see how well you know some of the basic and more tricky ones alike.
Visit Download Page - You're given 20 verbs that you must use to fill in the incomplete sentences. The answers are on the second page.