33 Free French Games to Help You Learn and Improve
Test Your Knowledge With These Free Online French Games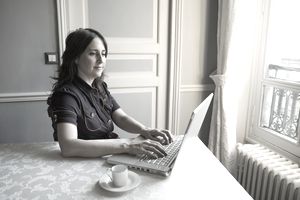 Learning French is a whole lot easier when you engage with the language, which is why you should periodically play some of these free online French games to test what you know. They're lots of fun and will give you a break from more formal free online French courses, free printable French worksheets and other free French language resources.
These games are ordered by difficulty so you can work through them top to bottom to test what you know about French colors, numbers, greetings, phrases, vocabulary, verbs, and more.
See this list of free language learning apps if you're stuck on some of these concepts, as they have full courses you can walk through to learn basically everything you're tested on in these games.
Easier French Games
See how skilled you are at these easier French games, which test everything from numbers and words, to colors and phrases.
Word Match - See if you can match a handful of basic English words with their French equivalents in this line matching game.
Number Mix and Match - Do you know your French numbers? Drag each English number 1-10 into the correct French-labeled boxes to win the game.
List the Numbers - List out dozens of French numbers before you run out of time.
Number Spelling - Test your spelling of French numbers with this timed, multiple choice game.
Number Labeling - Match the numbers with the French words for those numbers. You're tested on 1-9. Click here for the same game but for 10-18.
Vocabulary - Learn dozens of French words and then test your memory with a matching game.
Spell 10 Colors - Before the timer runs out, spell the French word for each color you're given.
Color Matching - Match up the English and French words for various colors with this game. Several more simple matching games like this can be found here, for things like weeks, months, numbers, weather, medicine, nature, and education words, among others.
Beetle and the Bee - Move the beetle around the screen to collect the strawberry in each level, while also avoiding the bee. Once you've collected the fruit, answer the multiple choice question that asks what the picture is in French, and then move through to the next levels.
Fruits & Vegetables - Click the food item that matches the French text or audio you see or hear on the screen. You can also learn the words before you play the game.
Multiple Choice Phrases - Learn a handful of common French phrases, and then test your knowledge of them with a text and audio multiple choice game.
Listen to French - Listen to the French words and click the English translations of them to test your knowledge of various words.
English to French Time - Type out the French word for each time term, like day, year, century, in the morning, etc.
Random Translations - Check your skills by translating a handful of random English words into French using the multiple choice answers.
Four in a Row - Choose a topic for the game's questions, click the pictures you see on the screen, and decide which French word the image is describing. If you get four in a row correct, you'll win the game.
More Difficult French Games
Below are  more free French games, but these are a bit harder than the previous ones, with spelling, addition, and harder translations.
Whack-a-Word - This fast paced game requires you to quickly click the right translations before they disappear from the screen.
Body Parts - See how many body parts you can name in French before the time runs out.
Crossword Puzzle - Scroll down to the bottom of this page to find a crossword game where you must translate the words from English into French, and then spell out the words to compete the crossword puzzle.
Balance the Scale - Balance out the scale by adding numbered weights and listening to the instructions in French to know if you should add more or less.
Battleship With Numbers - This Battleship game has a French twist from the classic game. If you successfully locate the opponents ship, you must choose the correct multiple choice number (1-60) that's the written translation in French before making an actual hit.
There are three game modes to play easy, medium, or hard.
Adding Numbers - See if you can beat the clock with this numbers game. You must add the French numbers together and then choose the correct French answer.
Jeopardy - Test your knowledge of basic French with numbers, greetings, months, and colors with this interactive game that resembles Jeopardy. You can choose one or two player.
Spelling - Listen to and read these French words, and then see if you can spell them back again by dragging and dropping the letters in their proper places. Games are available for animals, clothes, food, health, the home, people, shapes, and more.
Spelling Jeopardy - This game is a mix of the two previous games. You are given English words and phrases that you must spell in French while collecting Jeopardy-like points.
Verb Challenge - Another style of the Jeopardy game where you must enter the correct verb in French.
Translate Locations Sentences - See if you can translate the English sentences about world destinations into French with this drag and drop game. The French words are available for you to choose from.
Translate Weather Sentences - This game is just like the previous one except the sentences are about weather, not locations.
Translate 200 Vocabulary Words - Translate these English words into French before the 15 minute timer runs down.
Hangman - Guess the French word or phrase by choosing different letters, but don't get too many wrong or you'll quickly lose the game.
Irregular Verbs - Identify and spell out the French irregular verbs before the time runs down.
Subjunctive Challenge - Practice conjugating French verbs with this game.
Describe the Person - Click on the correct French words you see on the screen to explain what type of person you're looking at.
Translate French Phrases - Choose which English translation matches the 50 French phrases.