15 Free Horror Movie Trivia Games
Horror Movie Trivia Questions for the Biggest Fans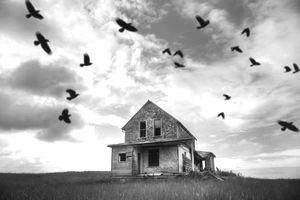 If you're a fan of horror movies, you won't want to miss out on this list of free, printable horror movie trivia games. They're great to play on your own, with friends, or even as a spooky party game.
These horror movie trivia quizzes cover the classic horror movies, the scream fests of the 1970's and 80's, and even the current scary movies that most people have recently seen.
If you especially love horror movies, I have a list of websites where you can watch free streaming horror movies.
There are also a lot of free classic horror movies that you can download.
My Ghoul Friday's Halloween Movie & TV Trivia: This is a 30 question Halloween trivia quiz that asks questions from Charlie Brown all the way to Michael Myers. There's also a PDF version of the quiz that makes it easy to print it and hand it out to your friends.
Scary Movie Trivia - Match the plot with the movie title in this printable 15 question horror movie trivia quiz. There are even some bonus questions at the bottom that will really separate the die-hard horror fans from the casual viewers.
Would You Survive in a Horror Movie?: This isn't really a trivia about horror movies but it is a quiz to see how much you've been paying attention to them. Answer two pages of questions to see just how long you'd make it through a horror movie.
Universal Monsters: Answer trivia questions about the Universal Monsters including Dracula, The Mummy, Frankenstein's Monster, and The Creature from the Black Lagoon.
Scary Faces Horror Movie Trivia: Take a look at these 30 horror movie monsters and scary faces and see if you can guess who they are.
Horror Movie Trivia: Take this easy but fun horror movie trivia quiz to find out how much you know.
Stephen King Quiz: There are 20 questions in this horror movie trivia quiz all about Stephen King's books.
Scary Movie Trivia Challenge: This 23 question free printable will quiz you and your friends over your favorite scary movies.
Halloween Movie Trivia Game: This colorful Halloween movie trivia game are cards that can be cut up and then drawn at random to quiz your friends.
Scary Synopsis Horror Movie Trivia: Read the scary synopsis of some of the most famous horror movies and see if you can guess the title.