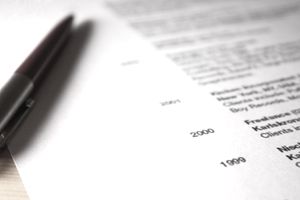 Using a free resume template in Microsoft Word will save you hours creating a resume from scratch and many of them provide helpful hints in writing the perfect resume.
The free resume templates are extremely easy to use. You'll just need to open them in Microsoft Word or a free word processor and use them like any other free Word template by customizing it with your own information.
There are many types of free resume templates here including general, customer service, technical, and medical resumes.
They'll vary in design and sometimes in format, but all the templates will help you create that resume that will get you hired.
Note: Some of these resume templates will need to be opened with a free file extractor before they can be opened in Microsoft Word.
General Resumes
These free resume templates can be used for any job application as there aren't any career-specific sections, images, or titles.
Chronological - Shows work experience in chronological order within a blue design.
Left Aligned (direct link) - Everything in this template is aligned to the left of the page and it has one line for personal details near the top.
Modern Design - Resume details are centered and contact information is displayed on the top right.
Note: Below are more resume templates that can be used for any job application.
These must first be opened in Google Docs and then downloaded in the Microsoft Word format from the File menu.
Customer Service
A few resume templates for customer service jobs, each with similar details but different layouts.
Customer Service 1 - Centered heading and left aligned past experience sections.
Customer Service 2 - Heading and body of the template are centered across the whole page, with a summary section near the top.
Customer Service 3 - Personal information in the header is left aligned with a summary, achievements, and employment section with list items in each.
Technical Resumes
Here are some free resume templates for technology-centered jobs.
Medical Resumes
These resume templates are designed typically for applying for a position in the medical field.