Complete a "Property Brothers" Application to Be on the Show
Ready for a renovation with Jonathan and Drew Scott?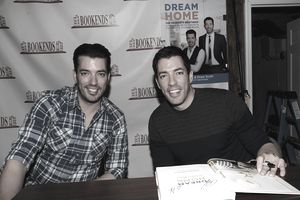 Shopping for a new home and considering a fixer-upper? You may want to document your experience on television. The "Property Brothers" show on HGTV often holds casting calls in different cities where the comical brothers are taping episodes.Want to meet Jonathan and Drew Scott and get a like-new home on a fixer-upper budget? You may want to know what goes into filing the "Property Brothers" application.
The brothers are typically seeking outgoing, energetic and fun-loving homeowners that are willing to take on the challenge of renovating their new home alongside them. But you don't have to be there with them every day; in fact, taping only takes a few days.
If you are chosen for the show, "Property Brothers" will provide the remodeling design, construction and a financial contribution towards the costs of your renovation. If you watch the show, you probably can tell that they have impeccable real estate, design, and construction know-how that almost always turns into a beautiful home by the end of the renovation.
What Goes Into a Winning "Property Brothers" Application?
According to a previous "Property Brothers" application, here are a few of the characteristics that the show looks for:
Be moving to a certain area
Be 30 to 40 minutes from the area of the new home
Be buying and renovating a fixer-upper
Be outgoing, energetic, opinionated, and fun
Need expert design and construction help
Have a minimum renovation and design budget of $70,000+, depending on the scope of work
Be able to make quick decisions in order to keep to tight timelines
Be available for up to 10 days of filming, which is staggered over the course of six to seven weeks
Be enthusiastic about working with HGTV experts who have the design and construction know-how to help create your dream home.
The application also asks several questions, and may want to know the following:
A bit about you and your family, including your occupation
How long you have known each other, and what the relationship dynamic is like (you and your partner disagree a lot, one person doesn't like renovations, etc.)
Photographs of you, your family and your existing home
Your thoughts on the house-hunting process
How you and a partner differ on financial and design decisions that would be made in a renovation
Whether or not you have any renovation experience, knowledge or disaster stories
Issues you experience design-wise in your current home/living situation
How you plan to finance your renovation, and if you can go higher in the budget at all
If you are pre-approved for a mortgage--and if so, for how much
Why you want to be on "Property Brothers"
What is on your dream home wish list
Where you will be living during the renovation
Any dates when you cannot be available for the show
The pros and cons of houses you are interested in
If you have appeared on television before
To fill out a "Property Brothers" application or get more information, visit HGTV.