Learn the Right Way to Make Homemade Glass Cleaner
Vinegar Is Miracle Ingredient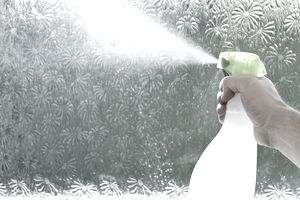 Make your own glass cleaner from ingredients you probably already have in your cupboard. You don't have to keep supporting big companies with their glossy packaging or spend big bucks on a cleaner that touts itself as natural.
If you want a natural glass cleaner, just leave out all the additives, fragrances, and chemicals that you object to. You don't need them to get your windows clean.
Once you make the switch to homemade glass cleaner, you'll be able to reuse the same spray bottle again and again instead of lugging a new bottle home from the store every time you run out.
Having less to dispose of is better for the environment than any "green" cleaner you can buy at the store.
Ready to give homemade glass cleaner a try? Here are two ways to make it.
Vinegar Glass Cleaner
What You Need
1 part white vinegar
1 part water
A spray bottle
How to Make It
Fill the spray bottle with equal parts vinegar and water. Then use as you would any store-bought glass cleaner. If you'd prefer a fragrant spray, here's how to make scented vinegar.
Benefits of Using Vinegar as a Glass Cleaner
Inexpensive
No harsh chemicals or fumes
Effectively removes fingerprints and other window grime
Doesn't leave streaks
Vinegar and Alcohol Glass Cleaner
What You Need
1 cup rubbing alcohol
1 cup water
1 tablespoon vinegar
Spray bottle
How to Make It
Use one cup of rubbing alcohol, one cup of water, and one tablespoon of vinegar per batch. Fill the spray bottle and use as a glass cleaner. Store in a cool cabinet away from any heat source because the alcohol makes this mixture flammable.
Benefits of Alcohol and Vinegar Glass Cleaner
Evaporates quickly so you don't end up with spots
Inexpensive
No harsh chemicals or fumes
Similar to what is found in many commercial glass cleaners
Cleaning Tip
Use newspaper instead of paper towels or rags to clean glass. It's the secret to streak-free windows.
If you don't subscribe to a newspaper, pick up discarded newspapers at a neighborhood coffee shop or breakfast cafe.
Warnings and Precautions
Do not reuse empty cleaner bottles. Buy a new bottle for your glass cleaner. Both vinegar and alcohol act as solvents and will pick up any traces of other chemicals that were in an old spray bottle. Even if you have a degree in chemistry, it's wise to avoid unwanted chemical interactions. With a new, clean bottle you won't have to worry about unintended reactions.
Always label the contents of your cleaner bottles. Label it clearly in big letters with what is in the bottle. "Vinegar Glass Cleaner" or "Rubbing Alcohol and Vinegar Glass Cleaner" are good labels. It is also wise to add the date when you mixed the ingredients. If you aren't getting good results, that date might tell you why.
Keep all glass cleaners out of the reach of children and pets. The ingredients can be irritating, and rubbing alcohol is flammable.
Store cleaning products separately from cooking ingredients. You don't want to confuse rubbing alcohol with drinking alcohol or use diluted vinegar in a recipe.
More Uses for Vinegar
You'll be buying vinegar by the gallon once you see all the ways you can use it around the house.
Besides being a good cleaner, vinegar can be used to make health and beauty products, to get rid of pests, and even to unclog a toilet.