How Does It Feel to Win a Big Prize? Read Charl's Story
Charl Describes How a Sweepstakes Win Changed Her Life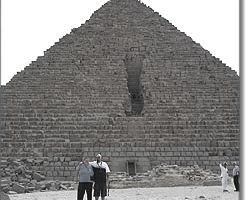 If you enter sweepstakes, you'll win cool prizes like cash cards, iPods, and shopping sprees. But the great thing about sweepstakes is that you never know when you're going to hit a really big prize. And those big prizes can take you places you've never dreamed of going.
Charl shares this story of her first big win and how it changed her life.
Charl's Life-Changing Trip to Egypt
"This is hard to believe, but a trip to Egypt was the first prize I have ever won!
I was one of those people who thought 'I would never win a contest', so I never bothered to enter any. Well, Dr. Pepper and Expedia had a promotion, I was bored one night and entered the little code on their site and won a baseball cap!
I kept entering thinking I could win another baseball cap for my other son, and over the summer I entered about 25 or so caps. (I LOVE diet, Dr. Pepper!) One night I was reading my email and received one saying I had won one of the 23 Grand Prizes in the Indiana Jones and the Crystal Cave sweepstakes from Dr. Pepper.
Charl Claims Her Prize
At first, I didn't believe it and thought it was some scam/spam. I called my husband at work and the first thing out of his mouth was, 'Don't tell anyone, you'll look like a fool if it is a scam!'
But I was thinking about it, and realized no one but Dr. Pepper knew I entered the sweepstakes. I looked at the phone number on the email that I was supposed to call, and looked up the area code and found it was for Seattle, WA.
Then I looked up Expedia, which was based in Seattle! I started to get excited!
The next day I called the number and the lady at Expedia, well, she must hand out fantastic prizes all day long because she told me in this flat voice, yes, you won the trip, do you want it? I was so excited I could barely breathe.
We got to choose from one of the cities that Indiana Jones went on his 'travels' which were India, Jordan, Peru or Egypt. We chose Egypt for many reasons, but mostly because it included a three-day cruise down the Nile.
Leading up to the trip, I was more scared and apprehensive than excited. I had never been out of North America, had never been on a plane that long, had read many stories about Christians in a Muslim country, etc.
If I could go back in time, I would throw all that mental 'baggage' out the window and allow myself to just be plain excited! All of my worries were so pointless, I realized in hindsight.
Journeying to Egypt
We spent ten days in-country and went from Cairo on a sleeper train to Aswan (an absolutely beautiful city!). From there, we took a flight to Abu Simbel (which is on Lake Nassar, which borders Sudan), then back to Aswan. From Aswan we took a three-day Nile River cruise up to Luxor, then a flight back to Cairo.
Dr. Pepper/Expedia paid for a private tour, and our guide was the nicest young man named Ahmad Sameer. He was about 27 years old and an educated certified Egyptologist.
Having a private tour really made all the difference. Instead of being herded with a large group, we got to spend ten days and nights with Ahmad, and we spent hours upon hours talking.
We really clicked with Ahmad, he was pleasant, funny and genuinely seemed to love Americans. He had as many questions about America that we had about Egypt, being Muslim, and Egyptian culture. I learned so much about Islam and what being Muslim was about. Really, this trip to Egypt was an education for my husband and me; we learned so, so much.
Because we were on a private tour, we got to do many things that we couldn't have done otherwise. For instance, instead of taking us to the tourist restaurants in Cairo, Ahmad would bring us to the restaurants he brings his family to. (Egyptian food is delicious by the way!)
Egypt Changes Charl's Life
Most of the Egyptians we met would ask us questions about America. Even though it seems the media in America portrays us as disliked by other countries, that wasn't my impression in Egypt.
In fact, it seemed most people we talked to had dreams of coming to America someday, and asked us many questions about what it was like here. The most common question was about Disneyland!!
I was very pleasantly surprised by Egypt. We felt so safe there, I never got vibes or felt like we were in any danger.
In fact, on the third night there, we went to the train station to catch the sleeper train. It was like an underground subway, crowded, noisy and filled with hundreds of people of all socio-economic levels. We found some benches to sit on next to a small snack shack that had sodas and snacks piled in front of the shack.
While we were waiting for our train, I noticed the man running the shack come out, close the door (but not lock it), and runoff. I watched the shack with all these people milling around, and not one person touched a single item in front of the shack, nor the unlocked cash box plainly sitting in the shack!
There were many examples of people being honest and not taking advantage of each other. One night we were docked in Luxor with the cruise ship. My husband got off to buy us drinks. There was a kid with Cokes right off the cruise exit, so my husband asked him if he had any Diet Cokes. This kid said, 'Sure, just a minute,' and ran off leaving his drinks and my husband just standing there, completely trusting that my husband wasn't going to rip him off. After about 15 minutes, the kid ran back with two 2 Liters of Diet Coke!
On our last night in Luxor, I accidentally left my camcorder in a Taxi. I didn't realize it was missing until the next day when the front desk called and said the taxi driver had come back first thing in the morning to drop it off for us. The taxi driver left without waiting for us to come up and claim it (and give him a tip).
I really loved my time in Egypt. I got to see the pyramids, tombs, and temples, but more importantly, I got to learn how Egyptians lived, what they ate, how they interacted with each other. If given the chance, I would go back in a heartbeat and bring my children. I am so grateful to Dr. Pepper and Expedia.com for giving me this trip.
It's been nine months since we got back and there hasn't been a day where I didn't think about this experience. I really feel like it changed my life."