How to Get Free Movie Channels Just by Asking
How to Get Free Premium Movie Channels Like HBO & Showtime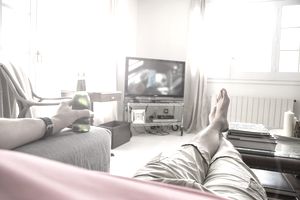 Do you want free movie channels or a premium package from your satellite or cable provider? It may be simpler than you think because all you really need to do is ask.
Whether your provider is Dish Network, DirecTV, Comcast, Time Warner Cable, or any slew of others, you can make a simple phone call or even chat online to get free HBO, Showtime, Starz or the other premium movie channel of your choosing.
In less than 10 minutes you'll be able to get months of free movie channels that you can enjoy right from home or on the go. Keep reading to find out how to do it and get some tips to make it happen.
What Movie Channels You Can Get for Free and for How Long
You can ask for any premium movie channel you want, a combination of a few, or all of them if you like. Just remember that you're more likely to get a "yes" the more conservative you are with what you want.
The free month channel offers are usually for 1 month, 3 months, or 6 months which is a lot longer than those free preview weekends they show every once in awhile. You can ask for a certain period of time or let the representative offer one to you. I usually let the provider take the lead with this one.
What You Need to Ask to Get Free Movie Channels
Now that you're ready to start the conversation, you'll need to know what to say. I've had luck getting free movie channels on the phone as well as live chat so pick whichever method of contact works for you.
During this conversation, you want to convince the representative that if you try a channel and like it, there's a good chance you'll pay the money to subscribe. Of course, there are no stipulations that you have to.
Here are some examples of questions to get you the channels that you want for free.
What special offers do you have going on for premium movie channels?
Asking what special offers your provider currently has going on for the movie channels is a great way to open the conversation without coming off as too demanding right away.
If you're interested in getting a particular channel for free, you can jump right in and ask them what specials they have for that channel.
My friend just got 6 months of free HBO from you. Can you do that for me?
Here's where you make your real move and they'll know exactly what you're after. It's great to ask for the channel you want here or you can go all out and ask for all the premium movie channels.
I've been your customer for a long time, can you give me a reason to stay loyal to you?
Pointing out your loyalty to your provider is a polite way to tell them that you really want this free movie channel deal and you may walk if you don't get it.
Your competitor has offered me a great deal that includes getting free movie channels. What do I need to do to cancel my service with you?
It's time to pull out the big guns and threaten to cancel your service. If they don't offer you free movie channels at this point, it's time to move on or try again with a different representative.
How You Need to Act to Get a Free Movie Channel Offer
Be nice. It's important to keep in mind that you're talking to a person on the other end of the line that has feelings. Getting on their good side means you get what you want and they feel great about doing it.
Ask instead of demand. You're more likely to get what you want by asking for it instead of demanding it.
Negotiate. If you ask for 6 months of Starz for free and get offered 3 months, take it and be happy about it.
Learn to admit defeat. If you don't get offered free movie channels be gracious about it and move on.
You May Need to Try More Than Once
Each time you call or live chat with your provider you'll get a different representative. If you don't have luck with one person than try again later or a different day.
Some providers have different freebie offers for different months. If you can't get free Showtime this month, try again next month and you may just get it.
You Don't Need to Sign a New Contract to Get Free Movie Channels
I've gotten free movie channels a few times and I've never had to sign a new contract to get it. If they ask you to, and you're comfortable doing this, go ahead but it's not something you need to do.
They may also ask for other things in return like signing up for auto bill pay. This is all up to you but it's not necessarily a deal breaker if you say no.
Don't Forget to Cancel
More than likely when your free movie channel time period ends, you'll start being charged for it. Keep an eye on your account and take note of it on an online calendar when you need to cancel unless you want to start paying for the channels.