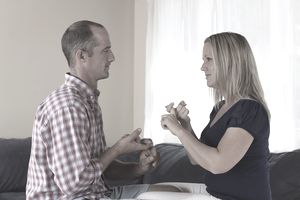 It's easier than ever to learn sign language for free thanks to thousands of resources available online.
Sign language can be useful for people of all ages in many circumstances. If you're new to sign language, wanting to learn more signs, or even if you're wanting to teach your baby how to communicate with sign language, there are plenty of resources available to help you.
Though these instructional apps, videos, quizzes, games, charts, and puzzles, you'll be learning sign language in no time.
Online Classes
A great way to learn sign language for free is by taking an online course that uses games, videos, puzzles, quizzes, diagrams, and photos, to make sure you learn to sign through a variety of methods.
You'll move through each unit learning new signs and strengthening the signs you already know, learning both common phrases and single letters.
Mobile Apps
A convenient way to learn sign language is by downloading a free app that will take you through learning signs by repetition and quizzes.
Marlee Signs (iOS) is video-based and shows you how to sign any word letter-by-letter. Plus, there's a library of conversation starters, numbers, letters, and other common words.
ASL Coach (iOS) teaches you the basics, including letters of the alphabet and numbers 1-9 with pictures.
Flip through ASL American Sign Language (Android) to see how to sign every letter of the alphabet using pictures. You can start from A and move through to Z, or you can get random letters to mix it up a little.
With Sign Language! (iOS), you can learn numbers and the ABCs in addition to more than 20 full sentences and a small selection of idioms/phrases, all through watching videos. Sentences include conversational feedback, feelings and emotions, classroom sentences, and sentences that involve meeting new people, among others.
Spread Signs (Android) is a searchable dictionary of more than 200,000 videos that tell you how to sign each of its words/phrases/sentences.
Printable Charts
Printable sign language charts are good for instant reference.
Common Words provides images of common words, like "what," "how," "hungry," "bathroom," "woman," and "food," being signed. Instructions for how to sign are below most of them.
Alphabet Fingerspelling provides two sets of pictures you can print for learning the alphabet. Both sets have the letters on the hands, but they also have a version without the letters for practice.
Individual Letters are large, printable letters of the alphabet represented in sign language. One way to use these is to print them off and place them next to words that start with that letter for passive learning.
Numbers/Common Words/Letters is similar to other printables from above with four images you can print for keywords, such as "how," "which," "where," "yes," "please," "thanks," "goodbye," etc. There also are printable for the alphabet and numbers 1 through 10.
Online Games
Online games can make learning sign language fun.
Choose the Sign gives you random signs, and you must select the right answer from the ones given.
There's also a 2nd, 3rd, and 4th section for similar questions.
Name the Color: Can you name all 18 colors before the 15-minute timer is up?
What's the Number? signs a number to you, and you must provide the correct answer. You can adjust the amount of time the sign remains on the screen, and you can play with numbers from zero through nearly a billion!
Resources to Help Learn Baby Sign Language
Teaching your baby to sign is a wonderful way to help them communicate with you before they can talk.
With free websites, apps, videos, diagrams, and charts, you'll learn the basics of baby sign language and then be able to teach it to your child.