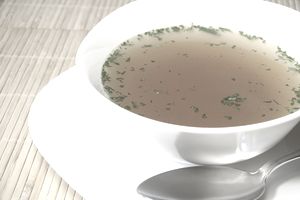 Ingredients:
4 pounds meaty beef bones (shank or short ribs)
2-1/2 quarts water\n2 carrots, chopped
2 medium onions, chopped
3 celery stalks, chopped
1 bay leaf
3 sprigs parsley
Salt to taste
Instructions:
1. Place the bones in a roasting pan, and roast uncovered for 30 minutes at 450 degrees. What to use, if you don't have a roasting pan.
2. Add the celery, carrots, and onions to the pan. Roast for another 30 minutes.
3. Transfer the bones and vegetables to a stock pot.
4. Skim the fat out of the roasting pan. Then, add half a quart (2 cups) of your water to the pan, and use a spoon to scrape off the flavorful brown bits stuck to the bottom.
5. Add the roasting liquids to the pot, along with the seasonings and remaining water.
6. Slowly bring to a boil.
7. Then, reduce the heat, and simmer uncovered for five hours. Skim off any foam that rises to the top.
8. Strain the beef broth through a cheesecloth-lined colander, and allow to cool. Here are some things you can use, if you don't have cheesecloth.
9. Refrigerate overnight, then skim off the fat in the morning. The broth may be stored in the refrigerator for up to three days, or stored in the freezer indefinitely. If you decide to can your broth, it needs to be pressure canned.
Yield: Approximately 2-1/2 quarts
Tips:
Stock up on beef bones when they get marked down. Then, freeze them until you have enough to make broth. Not sure where to get beef bones? Try health food grocery stores, like Whole Foods, Earth Fare and Fresh Market. They'll often have a freezer for bones in the meat department. If you don't see any, ask at the meat counter. Small, locally-owned butcher shops are also a great source for broth bones.
Don't have all of the vegetables and seasonings called for in the recipe? Then, improvise with what you have. It'll still taste great
Remove the cooked meat from the bones, and use it in other dishes
Freeze broth in ice cube trays; then pull out cubes when you need them. Two cubes is equal to a quarter cup of broth
See Also: