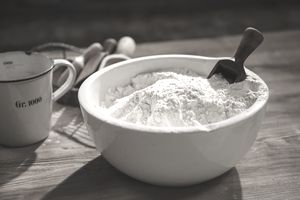 Lots of southern recipes call for self-rising flour—biscuits, fried chicken, pancakes, cakes ... and the list goes on. If you're out of self-rising flour, or you're not able to find it in your area, you can make it yourself in two minutes or less. Just grab some all-purpose flour and a couple other ingredients from your pantry, and you'll be half way there.
Here's how easy it is to make self-rising flour.
Ingredients
1 cup all-purpose flour
1-1/2 tsp baking powder
1/2 tsp salt
Preparation
1. Combine all of the ingredients. Then, use a whisk or flour sifter to mix them thoroughly.
2. Use right away, or store in an air-tight container for later use. Your homemade self-rising flour will keep for months. Be sure to label the container, so you don't mix it up with another flour.
Want to Make a Bigger Batch?
Just double, triple or quadruple the recipe to create as much self-rising flour as you need.
Here are some measurements to get you started:
For two cups flour: add 1 Tbsp baking powder and 1 tsp salt
For three cups flour: add 1-1/2 Tbsp baking powder and 1-1/2 tsp salt
For four cups flour: add 2 Tbsp baking powder and 2 tsp salt
For five cups flour: add 2-1/2 Tbsp baking powder and 2-1/2 tsp salt
For six cups flour: add 3 Tbsp baking powder and 3 tsp salt
How This Self-Rising Flour Recipe Compares to Store-Bought
The self-rising flour you buy at the store tends to be made with soft wheat, which has a lower protein than the hard wheat used to make all-purpose flour.
Self-rising flour is usually 8.5%-10.5% protein, while all-purpose flour tends to fall in the 10-12% range. This means your homemade self-rising flour (made with all-purpose flour) will probably have a slightly higher protein content than you're used to. What does this mean for your baked goods? Not much.
You may notice that your biscuits and other baked goods come out a bit less tender than usual, but most people will find the difference undetectable.
How to Store Self-Rising Flour
If you want your self-rising flour to work reliably in recipes, it's important to store it in an air-tight container, and in a cool dry place, so your baking powder doesn't activate early. That baking soda is responsible for making your baked goods rise.
Did You Know You Can Make Self-Rising Cornmeal, Too?
It's just as easy to make, and like the self-rising flour recipe, only requires three ingredients.
More Flour Substitute Recipes
If you don't want to fill up your pantry with a bunch of specialty flours that you only use once or twice a year, just whip up substitutes whenever you have a recipe that calls for anything fancier than all-purpose flour. Here are a bunch of flour substitutes to tuck in your arsenal: