How to Reduce Spam Email from Entering Sweepstakes
Win Entering Sweepstakes Get You Spammed? Not If You Follow These Tips!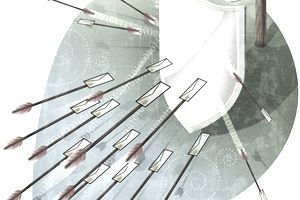 Get Less Spam from Entering Sweepstakes
If you enter sweepstakes, you will receive emails, some of which you won't want to keep receiving. If you're getting tons of marketing emails, it is tempting to simply ignore your sweepstakes email rather than wading through it all. But if you do, you could miss win notifications and pass up fantastic sweepstakes prizes.
However, your inbox doesn't have to become overwhelming, just because you're entering sweepstakes.
My main sweepstakes email only receives a few emails a day, most of which are entry confirmations and win notifications. Follow these tips to control the amount of email that you receive.
Here's How:
Set Up a Separate Sweepstakes Email

This is the most important step in keeping your sweepstakes mail manageable. If you set up a free email address to use just for your sweepstakes entries, you can easily pinpoint which spam emails are coming from sweeping. If you do get overwhelmed, you can simply start using a new address without worrying about contacting all of your friends and family with the new email. And you can make a point to check that address frequently to ensure you never miss a win notice.

Read the Privacy Policy Before Entering Sweepstakes

Legitimate websites have a privacy policy that describes how the company will use the information that they gather. Think twice about entering sweepstakes that don't have a privacy policy or that state that they will sell or rent personal information that they gather.
Opt Out on Entry Forms

Many sweepstakes give you the chance to opt in or opt out of receiving additional information from the sweepstakes sponsors and their partners. If you are interested in this information, by all means, opt in. After all, helping the sponsors meet their marketing goals will encourage them to offer more sweepstakes. Otherwise, be sure to opt out from receiving marketing mails.
Unsubscribe from Newsletters You Don't Want

Many people are afraid to unsubscribe from any unwanted email for fear that it will confirm their email address, which will then be sold to unscrupulous people who will send even more spam. This is a smart strategy for real spam - offers to buy prescription drugs online, or invitations to adult websites. However, unsubscribing from the newsletters that you receive by sweeping will reduce the overload in your sweepstakes email.

Report the Spam you Do Receive

Government agencies do regulate spam, but they can't stop it if they don't know about it. You can help by reporting the spam email that you do receive. (Note: Please do NOT report regular newsletters, unless they keep sending you emails even after you unsubscribe.)

Use Email Addresses that Filter Spam

Many email programs filter spam for you. Be careful when using spam filters to ensure that no win notifications get trashed, however! It's always a good idea to check your spam folders regularly and remove any legitimate emails that get accidentally filtered.
Use Anti-Spam Programs

Adding a spam filter to your sweepstakes email can cut down on the amount of junk mail that you receive. A good anti-spam program learns to filter email intelligently, helping to ensure that you receive win notifications while keeping out the emails that you don't need.