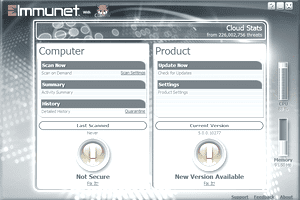 Immunet is considered one of the best free antivirus programs because it constantly connects to the Internet to stay on top of updates that help defend against viruses.
Important: Immunet provides constant virus protection, also called on-access or resident protection, for free. This means that Immunet can completely replace antivirus software from companies like McAfee and Norton that charge for their software and for yearly access to updates.
Pros
Provides intelligent scans to detect viruses, spyware, bots, worms, etc.
Never needs to update because it's always connected to the Internet
Toll-free customer support
Installs on 32-bit and 64-bit versions of Windows
Cons
Doesn't scan email databases
No automatic detection of viruses on USB drives
Doesn't support scheduled or offline scanning
Shows large advertisements
More Information on Immunet
Works with Windows 10 down through Windows XP
Immunet provides realtime detection of viruses, worms, bots, spyware, keyloggers, and Trojans without ever downloading an update
Works with other antivirus programs to provide extra protection
Runs a FlashScan to scan the registry and running processes
My Thoughts on Immunet
A major plus about Immunet is that it's always connected to the Internet and so can always update its definitions with information all the other Immunet users gather together.
This means when a threat is detected on one system, the same threat is blocked on all the other computers that have Immunet installed.
This makes it comforting to have the program installed, even if alongside other antivirus programs.