Learn French With Free Online Lessons
Courses and Podcasts Perfect for Learning French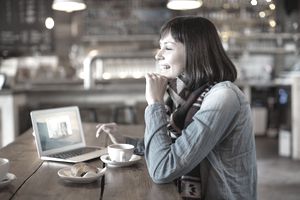 Free online lessons can help you learn the very basics of speaking French or test and improve your existing skills. Most lessons are structured in a way that let you take any lesson you want at any time you want, so you can learn at your own pace.
In addition to online lessons, you can download free podcasts if you learn better by listening or if you don't have the time to sit down and take a complete lesson.
You also can take a break from your French lessons to reinforce what you're learning with free online games and free printable worksheets.
Online Lessons
These French lessons are formatted like standard courses to learn the language in a natural progression from easier to tougher lessons.
Some of the courses automatically take you through the steps to learn French, but others simply provide you with all the necessary resources to learn common phrases/words, conversations, colors, numbers, grammar, and more.
Learning French is fun with Duolingo because you can set daily goals to ensure you stay on track. There are placement tests for more advanced speakers, or all the basics for the inexperienced. You can learn things like phrases, food, colors, clothing, pronouns, time, negatives, household items, objects, and lots more.
There are plenty of free French courses at Memrise that were created by other users to help you learn basic, intermediate, and advanced French.
Pick a course and any lesson within that course to get started right away. There are periodic quizzes and hints to help you remember what you're learning.
Start with the very basics at busuu and learn how to associate the phrases and words in French with the ones in your own language to really strengthen the bond between the two and help you remember what you're learning.
LearnALanguage.com offers hundreds of French verbs, phrases, and other words through videos, audio, and of course text. There's also a dictionary translation of French and English words.
Interactive audio/text French lessons at MYLO teach you about greetings, goodbyes, family, home, leisure, starting a conversation, age, birthday, daily routine, and more. There's also a quick audio dictionary you can search through at any point during your lessons. You can login to keep track of your progress or get started right away without creating an account.
Browse through FreeLanguageTutorials.com's table of contents to learn about French adverbs, pronouns, tenses, adjectives, prepositions, definite articles, and more. There isn't a large amount of information here, so it may serve better as a website for quick references.
There are 24 units of French lessons at Foreign Services Institute (FSI) that are available in two ebooks. There are more than 900 combined pages in the PDFs, so it helps to listen to the French with the included MP3 files.
FrenchSpanishOnline.com is great for testing what you've reviewed right after you've learned it. There are plenty of games and quizzes to ensure your vocabulary concepts will be remembered.
There also are audio quizzes for several of the lessons.
StudyStack is full of dozens of free flashcards to help with your lessons.
Visit the sitemap of Lawless French to get a one-page listing of all the categories you can use to learn French, such as grammar, expressions, listening practice, mistakes and difficulties, pronunciation guides, reading practice, quizzes and tests, travel and culture, and more.
French-Games.net's Lessons has lots of free online games to test your knowledge of the language, and there also are dozens of categories you can choose from to learn French words and sentences.
The French Tutorial is a very simple website using both audio and text. From the table of contents, you can choose to start from the beginning with the basics and pronunciations or skip forward to more advanced lessons.
FrenchByFrench.com offers 150 free PDF files, suitable for beginner and intermediate speakers. There's also an online resource for common vocabulary words.
Download the "Free French Audiobook" from French Today to get a PDF file you can use to follow along with a set of audio files. The goal is to help you learn how to associate spoken French with written French.
Several free French lessons are available at Lingopolo.com. You can start with "Survival" or "Beginner" to get started, then proceed to "Intermediate" and "Advanced" for more. You also can browse through the lessons by parts of speech or theme, such as nouns or kitchen, for example. All lessons are listed with French audio and words as well as the English translation. A quiz is available for each lesson to test what you've just learned.
On FrenchAssistant.com, you're taught the French alphabet, vowels, basic words, colors, numbers, verbs, grammar, and many other basics through a step-by-step process. Audio is included but only if you create a free user account.
Learn some of the basics of the French language with BBC audio files that explain how to say the alphabet and a few key phrases. Also see BBC's Talk French, which is a set of introduction videos to teach you about basic greetings, introductions, directions, and more.
Speak7.com - A great source for specific how-tos like "How to Deal With Law Enforcement," "How to Make a Conversation," "How to Ask for Directions," etc. There also is a handful of grammar and vocabulary/writing lessons.
Learn tons of French phrases, basic words, and grammar tips at French Linguistics. The site also offers access to flashcards, an online French-to-English dictionary, and a forum to exchange questions with other users.
French lessons from Learn French Lab include grammar, vocabulary, verbs, pronunciation, learning tips, and more. There's also a webinar you can sign up for during specific dates that will walk you through various free lessons. 
French Word of the Day isn't comprehensive, but you can visit the page every day or subscribe to the email or RSS feed to get a daily vocabulary lesson, such as a word or sentence, in French and English. This is nice to have if you couple it with one or two other French lessons so you can be given a little extra to learn every day.
Free Podcasts
Instead of using online text, you can use podcasts to learn French at home or on the go, which will teach you the language through listening instead of reading.
Many podcasts are helpful if you couple them with the above online courses or even if you use them independently.
With more being added periodically, there are more than 180 free audio files in the ​Coffee Break French podcast that will step you through the French language from the very beginning. As these progress to newer releases, they become better suited for intermediate and advanced users. Podcasts are anywhere from just a few minutes long to half an hour. Listen online without having to use iTunes.
ieLanguages has 65 files. They are natural conversations by native speakers to help with your comprehension of the language, and they can be coupled with additional online resources.
TheFrenchPodcast.com is not for people who are brand new to French. You'll find beginner, intermediate, and advanced audio files, but they're definitely not for true beginners. The audio files are sample conversations between two French speakers. A PDF is included with each podcast so you can read along as they speak.