Learn Spanish Easily With These Free Spanish Lessons
Free Online Courses and Podcasts That Are Perfect for Learning Spanish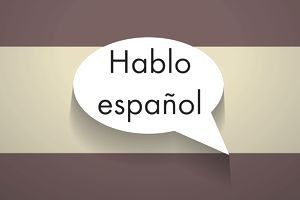 These free Spanish lessons will teach you Spanish or strengthen your Spanish-speaking skills at absolutely no cost, from the comfort of your home, and best of all, you can take them at your own pace.
The free Spanish lessons can be taken as structured online courses or as podcasts you can listen to and interact with. Whichever one you choose, you'll learn the fundamentals of the Spanish language and build up the vocabulary and phrases you learn along the way.
You'll also want to check out these free language learning apps that can be used to learn Spanish from just about anywhere you go, and these free leaning Spanish resources, that include free Spanish worksheets and printables, and free online Spanish games to fine tune your skills while having some fun.
Free Online Spanish Courses
These free Spanish lessons are put together as online courses. You can go lesson by lesson to progressively learn Spanish in a structured format.
Within each Spanish lesson you'll be taught words and phrases through visual and audio techniques and then be quizzed at the end to make sure you're ready to move onto the next lesson.
123 Teach Me - With over 12,000 resources, learning Spanish at 123 Teach Me gives you step-by-step instructions to learn grammar, verbs, and more through quizzes, listening and reading comprehension tests, videos, and thousands of sample sentences.
Duolingo - Duolingo's website is extremely easy to use, and it's very user friendly. You'll be taken through steps to learn phrases, food, plural words, possessive terms, questions, colors, family, time, adjectives, household items, objects, adverbs, places, countries, directions, and tons of other things.
 Set a daily goal to keep you moving through the lessons each and every day, and you'll learn Spanish before you know it!
Memrise - Choose between Basic, Intermediate, or Advanced to start a free Spanish course online with Memrise. The website is super easy to use, and there are periodic quizzes to test what you've already learned. At the end of lessons, you'll get a summary of how you did, with points, time spent on questions, and accuracy percentages.
busuu - I like busuu because it associates audio, text, and images with one another, so it's easier to build that bridge between them in the language you're trying to learn. It does this with common phrases so you can easily pick up on what they mean just in passing.
PracticingSpanish.com - Includes greetings, vocabulary, and regular, everyday speech translations coupled with audio to help you learn phrases, sentences, and terms related to health. You can find translations that relate to physical exams, prescriptions, pharmacists, emergency operators, eye examinations, and more. There's also the basics for newcomers, such as information on vowels, the alphabet, pronunciation, consonants, accent mark, greetings, colors, and others.
StudySpanish.com - There's a number of free and very specific Spanish tutorials to be found here.
Learn all about pronunciation, grammar, vocabulary, verbs, and idioms. Some of the tutorials have audio that makes you repeat the words over and over to ensure you're learning them. There's also a Daily Word page that gives you a new Spanish word to learn each and every day.
Fluencia - Before you start, define how well you know Spanish, from nonexistent beginner to very advanced. You'll go through just a handful of quick lessons that include fill in the blanks and multiple choice questions regarding introductions, basic greetings, and pronunciations.
SpanishPrograms.com - These lessons are all video-based and are broken down into 13 sections. Some of them include Basic Needs, Grammar, Communication, Travel, and Comprehension. Each of them has subcategories for even more specific lessons, and you can move freely among any category whenever you like.
Other free courses are also available that aren't included in the lessons, like Beginning Verbs.
Lingolex.com - Learn Spanish grammar and vocabulary at this website. There are lots of lists you can refer to, but there's also a flashcard game/lesson that teaches you lots of Spanish phrases.
Foreign Service Institute Basic Course - This is a very old course (from the 1960's) for learning Spanish. For the basic course, you're given a 700-page PDF that you're to follow along to while listening to pronunciation tapes.
Learn Spanish With These Free Podcasts
Another format for free Spanish lesson is through podcasts. It is a great way to learn Spanish by hearing it and then speaking it. These are great because you can go through them in the car and on the go.
Coffee Break Spanish Podcast - This is a free Spanish learning podcast at iTunes that currently has over 160 free files you can download and listen to wherever you're at. These recordings are anywhere from 5 to 30 minutes in length. The idea is to pick up the language gradually through the weekly podcast releases. Fortunately, there are already dozens of them available, so you can learn at whatever pace you like. You can also get this podcast outside of iTunes so you can download the audio files from their website, Radiolingua, to listen to them however you like.
Show Time Spanish Podcast - If you've finished Coffee Break Spanish and want something more advanced, Show Time Spanish is just that, and it's even from the same producers as Coffee Break Spanish.
Discover Spanish Podcast - Subscribe to this free Spanish podcast to learn the language in 15-minute stretches. After every 6 podcasts is a review to see what you've learned in the previous lessons. Visit their website if you'd rather download the MP3 files yourself, or if you don't like to use iTunes.
One Minute Spanish - This podcast has ten audio lessons that are just a couple minutes in length to teach you the very basics of Spanish. The goal is to help you learn only the basics so you can speak and understand common words, numbers, yes/no, etc., in a short period of time without having to know the entire language. The audio files can be listened to and downloaded from their website, as well.
Notes in Spanish Podcast - Free audio files for beginner, intermediate, and advanced Spanish speakers. This podcast differs from others in that it tries to immerse you in real life conversations from the start to help you form the concepts easier. These audio files are also available from their website.
Finally Learn Spanish Podcast - If you're already a bit experienced in Spanish but just need help with vocabulary and how to use words in context, this iTunes podcast might be the lesson you're looking for.
Insta Spanish Lessons Podcast - This iTunes podcast is built more for intermediate and advanced Spanish speakers, teaching comprehension and grammar.
La Casa Rojas Podcast - If you've moved through all the Spanish lessons you can, and would like something more advanced to sharpen your skills, check out this free podcast to learn through things like music, culture, and literature.