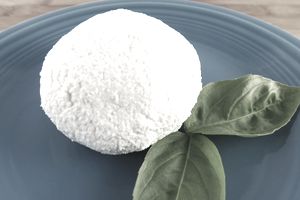 Cheesemaking is a DIY skill that's worth mastering. When you know how to make your own cheese, you don't have to pay a premium to enjoy fresh, preservative-free cheeses. With these recipes, you can choose the type of milk you wish rather than trusting a commercial cheesemaker to use organic or hormone-free milk. You can also control the amount of salt and other ingredients and avoid additives.
What You Need to Make Homemade Cheese
You will need only a few pieces of equipment to make cheese as people have made since prehistoric times.
stovetop, burner or hotplate
heavy-bottomed saucepan or double boiler to heat the milk
cheesecloth or muslin to strain the curds.
food thermometer for heating the milk to the right temperature.
milk
other ingredients vary from recipe to recipe.
Homemade Cheese Recipes
What type of cheese would you like to learn how to make? Here are instructions for several types of homemade cheese. 
Cottage Cheese: Make your own cottage cheese or paneer. It is amazingly easy to do, only needing milk and an acid such as citric acid, lemon juice or lime juice. It only takes half an hour after heating to turn milk into cottage cheese. This saves money and allows you to decide what kind of milk you use and how to process the curds. You may want a block or cubes to use in Indian recipes, or you can process them into smaller curds as is traditional for cottage cheese.
Fromage Blanc: You can make your own soft cheese to enjoy by itself or use to replace cottage cheese, cream cheese or ricotta in recipes and dishes. It takes whole milk, a little buttermilk, and lemon juice. You will need to make this the day before you want to use it.
Mascarpone: This recipe uses heavy cream and tartaric acid to make the silky cheese used in many desserts. You will need to allow at least 12 hours for it to cure.
Mozzarella: You can make fresh mozzarella in only 30 minutes. You will need rennet and citric acid, so a trip to the health food store may be necessary to get the right supplies.
Ricotta: Make ricotta from buttermilk plus milk. That's all you need in addition to heating and straining in a cheesecloth. Allow about 90 minutes from start to finish.
Yogurt Cheese: Plain yogurt can be transformed into Greek-style yogurt or cheese. It only takes a strainer, cheesecloth, and time. You can use yogurt cheese as a replacement for cream cheese, sour cream or mayonnaise. You can spice it up however you wish by mixing in other ingredients after it has been strained.
Storing Homemade Cheese
These fresh cheeses have a limited shelf life and should be kept refrigerated. Check each recipe. In general, you should plan to use them within a few days. To be sure you are using your cheese while it is still of the best quality, you may want to label it with the date you made it and your own "use by" date based on the recipe.
By making your own cheese, you won't have to recycle or dispose of the containers that many of these soft cheeses come in. Enjoy your cheese!