Miromar Outlets - Estero Florida
Find Out About Mall Hours, Coupons, Holiday & Sales Events, Store Listings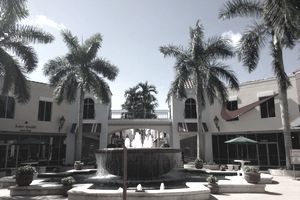 Located between Naples and Fort Myers and just one exit south of Southwest Florida International Airport, Miromar Outlets is a popular tourist destination with a lot of major attractions and nearby beaches, fishing, water sports, golf courses and more.
The outlet mall is beautifully designed and features Mediterranean architecture, dramatic fountains, Koi and turtle ponds, and a family of ducks. Sitting among the courtyards and covered walkways are over 140 popular outlets stores, several restaurants and a play area for children.
Shoppers can expect to save up to 70 percent off year round.
Review of Miromar
Based on online reviews posted on Yelp and Google, shoppers enjoy about Miromar Outlets, with the exception of a few posters who were hoping for lower prices.Four and five-star rating dominate the reviews posted on Yelp and Google. The ratings are supported with shoppers positive remarks about the impressive number of high-end outlet stores, great prices, wide selection of food choices and an ambiance 
Maybe that is why the Miromar Outlets has received more than 25 awards including "Best Shopping Mall" and "Best Factory Outlet Mall" for 16 years in a row.
One poster pointed out that if you buy something at Calvin Klein, Van Heusen or Tommy Hilfiger you get coupons for discounts at one of the other two stores. A Good tip to know.
If I ever get in the area it will be a definite stop for me!
Outlet Mall Contact Information:
10801 Corkscrew Rd.

Estero, FL 33928
(239) 948-3766
Mall Regular Hours
Mon - Sat: 10 a.m. - 9 p.m.
Sun: 11 a.m. - 6 p.m.
Sat, Nov. 28: 8 a.m. - 9 p.m.
Sun, Nov 29: 10 a.m. - 6 p.m.
Mon, Nov 30 - Fri, Dec 4: 10 a.m. - 9 p.m.
Sat, Dec 5: 9 a.m. - 9 p.m.
Sun, Dec 6: 10 a.m. - 6 p.m.
Mon, Dec 7 - Fri, Dec 11: 10 a.m. - 9 p.m.
Sat, Dec 12: 9 a.m. - 9 p.m.
Sun, Dec 13: 10 a.m. - 6 p.m.
Mon, Dec 14: Fri, Dec 18: 10 a.m. - 9 p.m.
Sat, Dec 19: 9 a.m. - 9 p.m.
Coupons, Sales and Mall Events
Miromar Outlets has an ongoing list of special events throughout the year, including live entertainment, sidewalk sales during key holidays, and all night shopping and savings event on Black Friday.
For shoppers looking for coupons or to see the deals going on inside the outlet stores, a quick look at the Offers link on the Miromar Outlet website lets you know the deals. Also, get your printer ready. On that same page you can access a link to the VIP Savings Brochure coupon, which you can print then take to the Mall Office and redeem it for the VIP Savings book.
If you are planning on dining at one of the many places to eat in the mall, be sure to check out the coupons on the Offers/Dining link.
Also, for serious bargain hunters, sigh up to receive VIP emails that will keep you informed about special sales and coupons and finally, don't forget to check the Miromar Outlets Facebook page for event listings and mall coupons that are sometimes posted.
Store Listing:
A|X Armani Exchange (239) 949-6959
Abercrombie & Fitch / abercrombie kids (239) 495-3135
adidas Outlet Store (239) 390-4120
Aeropostale (239) 947-5040
Aerosoles (239) 948-7677
AJ's Golf 4 Less (239) 405-8897
All American Grill (239) 498-0831
American Eagle Outfitters (239) 947-1078
Ann Taylor Factory Store (239) 948-2456
Aqua Beachwear (239) 948-2330
ASICS Outlet (239) 495-3134
Auntie Anne's Pretzels (239) 949-0833
Banana Republic Factory Store (239) 390-0772
Bare Minerals (239) 947-1028
Bath & Body Works (239) 390-5922
BCBGMAXAZRIA Factory (239) 204-4195
bebe (239) 947-8846
Bloomingdale's The Outlet Store (239) 271-3455
Bose Factory Store (239) 947-8270
Brooks Brothers Factory Store (239) 948-2177
Calvin Klein Underwear (239) 947-1129
Calvin Klein (239) 495-7737
Carter's Childrenswear (239) 948-1581
Cell Phone Accessories KIOSK
Chico's Outlet (239) 949-2252
Christopher & Banks (239) 495-3477
Claire's Boutique (239) 948-4044
Clarks Bostonian Outlet (239) 390-3241
Coach | Coach Men (239) 390-9589
Cole Haan (239) 498-5990
Columbia Sportswear Company (239) 390-1898
Converse Outlet Store (239) 495-9512
Cosmetics Company Store (239) 947-8788
Crabtree & Evelyn (239) 390-0023
Crocs (239) 949-0594
Dairy Queen/Orange Julius (239) 390-1428
Desigual (239) 495-3351
DF&CCO LANCOME (239) 947-7205
DKNY (239) 949-6006
dressbarn (239) 949-6525
Dunkin's Diamonds (239) 949-8668
easy spirit (239) 948-4260
ECCO Shoes (239) 948-0474
Eddie Bauer Outlet (239) 949-9188
Express Factory Outlet (239) 676-3283
Fast-Fix Jewelry & Watch Repair (239) 949-8669
Flip Flop Shops (239) 495-0399
Florida Kitchen (239) 992-1100
Ford's Garage (239) 495-3673
Fossil (239) 947-0699
Fragrance Outlet (239) 992-9713
French Deli (239) 221-7072
G.H. Bass & Co. (239) 498-7330
Gap Outlet (239) 498-1301
Greg Norman (239) 949-4653
GUESS Factory (239) 948-2462
Gymboree Outlet (239) 949-0664
Haggar Clothing Co. (239) 949-2721
HanesBrands Outlet (239) 992-0606
Hartmann (239) 948-3214
Hartstrings Kids Apparel Center (239) 495-0106
Hurley (239) 949-0454
Island Shaved Ice KIOSK
J. Crew | crewcuts Factory (239) 948-3709
Janie and Jack 239-495-3310
Jockey (239) 390-0660
Johnston & Murphy Factory Store (239) 949-6853
Journeys (239) 390-0568
Justice (239) 948-2040
kate spade new york (239) 498-2001
Kay Jewelers Outlet (239) 949-9195
Kitchen Collection (239) 495-3513
La Bamba Real Mexican Food Restaurant & Tequila Bar (239) 948-2684
LACE Women's Fashion (239) 908-3181
Lacoste (239) 495-0707
Le Creuset (239) 948-3210
Levi's Outlet Store (239) 948-5384
Limited Outlet, The (239) 495-3503
LOFT Outlet (239) 495-3185
Lucky Brand Outlet (239) 495-2300
Luggage Factory, The (239) 495-9953
Luna Pizza (239) 949-6822
Luna Rossa Italian Grill (239) 949-6633
Men's Wearhouse (239) 948-1035
Michael Kors (239) 390-3252
Mimi's Kettle Korn KIOSK
Movado Company Store (239) 947-3870
Naples Flatbread & Wine Bar (239) 495-3528
Nautica (239) 949-0871
Neiman Marcus Last Call Store (239) 947-0465
New York & Company (239) 495-3020
Nike Factory Store (239) 948-4100
Nine West Outlet (239) 390-0680
Norman Love Confections (239) 672-8787
North Face, The (239) 949-8429
NYS Collections KIOSK
Oakley Vault (239) 992-2768
OshKosh B'Gosh (239) 947-1098
PacSun (239) 498-4751
Papaya (239) 949-7997
Perfumania (239) 949-5940
Perry Ellis / Callaway / Cubavera (239) 949-5424
Piercing Pagoda (239) 495-9395
PJ Station – Deli & Gelato (239) 390-9555
Polo Ralph Lauren Factory Store (239) 948-0053
Quiksilver/Roxy/DC Shoes (239) 948-1075
Rack Room Shoes Metro Mart (239) 498-4566
Reebok / Rockport Outlet Stores (239) 949-3370 / (239) 947-1973
Rocky Mountain Chocolate Factory (239) 949-6757
Saks Fifth Avenue OFF 5TH (239) 948-7110
Samsonite Factory Outlet (239) 948-2255
Skechers (239) 495-5300
Soma (239) 498-3034
Sunglass Hut (239) 495-8339
Talbots Outlet (239) 390-2402
The PUMA Store (239) 947-7111
Tommy Hilfiger | Tommy Hilfiger Kids (239) 498-4466
True Religion (239) 495-4511
Tumi (239) 948-1052
U.S. Polo Assn. (239) 390-0107
Under Armour (239) 390-9008
Uniform Destination (239) 992-1333
Van Heusen (239) 498-2522
Vans (239) 495-3470
Vera Bradley (239) 949-8451
VIP Nails (239) 948-4128
White House | Black Market (239) 498-2589
Worth Collection, The (239) 948-5975
For more information, visit the Miromar Outlets Web Site