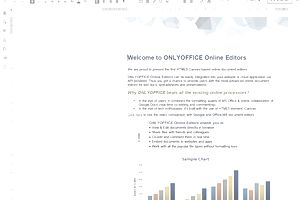 With support for these tools as well as lots of awesome features and a nice, clean interface, ONLYOFFICE Personal becomes a really nice alternative to Microsoft Office.
More About ONLYOFFICE Personal
ONLYOFFICE Personal is built with three parts that work together as an MS Office alternative but separately as individual programs.
Doesn't require a software download
Simple, easy to use website
New files can be created online as well as existing ones uploaded
Files can be shared with anyone, even non-users
Shared files allows chat and co-editing
Word processor has automatic spell check
Unlimited storage space for documents, spreadsheets, and presentations
File versioning lets you restore an older version of a file
A search and filter tool let you easily and quickly find files in your account
Multiple files can be downloaded from your account in the form of a ZIP file
Must create a user account to use the suite
Uploads must not exceed 100 MB in size per file
ONLYOFFICE Personal File Formats
ONLYOFFICE Personal fully supports the following file types, meaning that you can open and save back to these formats:
The file formats below can be opened with ONLYOFFICE Personal but can not be saved back to the same format. You'll need to choose a format listed above to save one of these file types to after opening:
ONLYOFFICE Personal vs Microsoft Office
The Microsoft Office suite of course isn't free to use, and it requires that you download the software or install it from a disc before you can use it. In my experience, some computers take a long while for the components to fully install, and I've ran across my fair share of install errors during the process.
ONLYOFFICE Personal, however, is absolutely 100% free to use and you can get started making new files and upload existing ones in mere seconds after logging in.
Though because ONLYOFFICE Personal is used online, there is a waiting period from the time you start uploading your files to the time that you can actually use them. Microsoft Office lets you import files immediately without uploading them online, which is of course a nice advantage.
When comparing ONLYOFFICE Personal and Microsoft Office, it's important to look at their features on their own. What I mean by this is that if you are someone who is moving between computers a lot but would like to have access to your files on the go, maybe an online solution is better. Though if you like having an email client (Outlook) and database program (Access) to use along with a word processor and other office tools, maybe Microsoft Office is a better fit.
My Thoughts on ONLYOFFICE Personal
Just because ONLYOFFICE Personal runs entirely online in your web browser doesn't mean it lacks in major features, which is important to note. For example, the word processor lets you add charts, pictures, and tables; and the spreadsheet program gives you access to filtering capabilities and lots of functions.
I also really like the fact that ONLYOFFICE Personal lets guests view and edit files without having their own account. This means you and a friend can edit the same document at the same time and only one of you needs a user account. This is very similar to Google Drive's feature, which is also a free online MS Office alternative.
Sharing files from some websites can be confusing because of all the options, but ONLYOFFICE Personal makes it very simple. Once you've chosen to share a file, you simply select to open or deny access to it, and then copy the link you're given. You can even create a short URL that looks nice and neat.