Outlets at Tuscola in Tuscola, Illinois
News, Coupons and Deals, Store Listing, Contact Information, Directions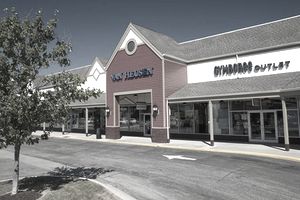 Located about 20 miles south of Champaign, Illinois, Outlets at Tuscola (formerly Tanger Outlets Tuscola)  is made up of over 40 popular name-brand outlet stores. The center offers a good mix of leading designer and factory store brands.
Outlets at Tuscola Review
I visited this outlet center when it was owned by Tanger Outlet and I was anxious to see it again now that it is under new owners. I did not notice that much of anything has changed, although the outlet center did seem cleaner than before and better maintained.
Despite some of the outlet stores that have left the center, there was still a good mix of merchandise. The stores seemed to have ample inventory, so finding items in the sizes that I needed was not difficult.
Most of the stores had additional off savings events going on, so I did see a lot of good bargains. I found a gorgeous sweater at the Gap Factory Outlet for only $6.00. I really lucked out at the Hush Puppies Merrell Sebago outlet. My most comfortable pair of Merrell shoes had worn out and the store had the exact pair in the same color and in my size and at about 60 percent off.  That alone made the trip to the center worth it.
What did I like best about Outlets at Tuscola? Getting to the outlet center was super easy. There was plenty of parking. The stores were well stocked. Store employees were helpful, and the center was clean. The center could use a decent restaurant and more stores that do not sell primarily clothing.
Current Coupons and Special Offers, Promotions and Sales
Headed to Outlets at Tuscola? Be sure to check out the Coupons & Special Offerswebpage for many of the current promotions and coupons going on at the outlet stores. The deals can be viewed alphabetically, by expiration date, or by the newest promotions.
In a hurry? Print all the deals and take the list with you when you go shopping.
VIP Savings Club
Join the VIP Savings Club for free and receive exclusive benefits such as special offers for VIP Savings Club members only.  Members also receive advance notice on sale events, exclusive event invitations, and other perks throughout the year.
Address and Phone Numbers
Outlets at Tuscola
D400 Tuscola Boulevard
Tuscola, Illinois 61953
Phone: (217) 253-2282
Directions to the Outlet Mall
Outlets at Tuscola is conveniently located just 30 minutes south of Champaign, Illinois and 45 minutes east of Decatur, Illinois on Route 36 at I-57, Exit 212 in Tuscola, Illinois.
Outlets at Tuscola Hours
Winter Hours, January 1 through March 31, 2017
Monday - Thursday 10:00 a.m - 6:00 p.m.
Friday - Saturday 10:00 a.m - 9:00 p.m.
Sunday 11:00 a.m - 6:00 p.m.
For more information about the outlet center' hours, please visit the Tuscola Outletswebpage.
Tuscola Outlets Store Listings:
American Eagle Outfitters, (217) 253-2215
Bass Factory Outlet, (217) 253-3858
Bath & Body Works Outlet, (217) 253-3801
Bon Worth, (217) 253-9888
Carter's Babies and Kids, (217) 253-5690
Chico's Outlet, (217) 253-2202
Christopher & Banks, (217) 253-4176
Claire's, (217) 253-6506
Coach, (217) 253-3030
Corningware Corelle & More, (217) 253-2399
Dressbarn, (217) 253-2539
Famous Footwear Outlet, (217) 253-2301
Gap Factory Outlet, (217) 253-6666
Gymboree Outlet, (217) 253-5058
Harry & David, (217) 253-5292
Hush Puppies Merrell Sebago, (217) 253-9955
J.Crew | Crewcuts Factory, (217) 253-1091
Jockey, (217) 253-2066
Justice Factory Store, (217) 253-4969
Kay Jewelers Outlet, (217) 253-2613
Kitchen Collection, (217) 253-4737
L'eggs Hanes Bali Playtex, (217) 253-6911
Lane Bryant Outlet, (217) 253-2324
Maurices, (217) 253-2374
Nike Factory Store, (217) 253-2058
Old Navy Outlet, (217) 253-3465
OshKosh B'gosh, (217) 253-3349
Perfumania, (217) 253-6479
Polo Ralph Lauren Factory Store, (217) 253-4753
Reebok, (217) 253-9560
Rue21, (217) 253-3276
Skechers, (217) 253-4411
The Sports Den, (217) 253-4329
Tommy Hilfiger, (217) 253-5880
Toys "R" Us Express Outlet, (217) 253-5599
Under Armour, (217) 253-1068
Van Heusen, (217) 253-3398
VF Outlet, (217) 253-9890
Vitamin World, (217) 253-4330
Wilsons Leather, (217) 253-3613
Outlets at Tuscola News:
Tanger Outlets Tuscola Sold and Renamed
The Tanger Outlet Tuscola in Illinois was one of five Tanger Outlets that were sold in 2016. The Chicago real estate company, Avison Young, now manages the centers with the newly formed outlet advisory group - The Outlet Resource Group, TORG. TORG will be handling the leasingand marketing services for the Tuscola center.
According to Mitchell Brown, Chief Operating Officer and Senior Vice President of Marketing at TORG, the leases are part of the property and will remain in place. He also said that gift cards sold before the sale would be honored by Tanger Outlets.
For the most current information about the outlet stores at Tuscola Outlets, contact the outlet mall office at (217) 253-2282 or visit the Tuscola Outlets webpage.