PCH Giveaway No. 11000—Win $7,000 a Week for Life Sweepstakes
How to Enter the PCH Sweepstakes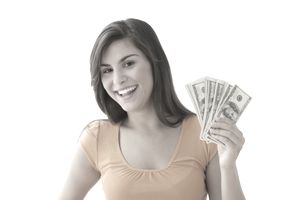 Have you ever dreamed of seeing the Publishers Clearing House Prize Patrol show up in front of your house with an oversized check? Of course, you have—at least if you've ever seen one of those commercials on television with someone else gleefully opening her front door. 
Here's your chance. Enter to win $7,000 every single week for the rest of your life from the PCH SuperPrize Giveaway No. 11000 or a one-time million-dollar prize from PCH Giveaway No.
8035. One of those two prizes is guaranteed to be awarded. If you win the million-dollar second-chance drawing, you'll receive your winnings as an annuity. Here's what you need to know. 
Rules for Entering
These contests are open to residents of the United States, the UK, and Canada, although they're void in Quebec and Canadian residents cannot enter online. You must be age 18 or older.
You can enter from March 1, 2018 through April 24, 2018 at 11:59 p.m. ET, and you can enter as many times as you like if you do so by mail. 
The Grand Prize is $7,000 a week for life with a guaranteed minimum of $1 million. The second-chance prize is a flat $1 million if the winning number is not returned. 
How to Enter
PCH offers a variety of ways to enter this giveaway, including by mail, email, and online, and some of them are a lot of fun. You're randomly assigned a number when you enter. If that number matches the randomly-drawn winning number, you'll be awarded the grand prize.
Otherwise, a randomly-drawn winner will receive the second-chance prize. 
If you enter through PCH.com, you'll also be eligible to win other giveaways at the same time. 
No Purchase Necessary! 
No purchase is ever required to enter any PCH sweepstakes. Making a purchase will not affect your chances of winning so don't feel that you have to buy magazines or anything else to enter!
Pros and Cons of the PCH Sweepstakes
A PCH SuperPrize could set you up for life, but there are a couple of drawbacks to winning as well.
Publishers Clearing House is so famous and its sweepstakes are so popular that the odds of winning are extremely low—about 2.4 billion to one to win the SuperPrize. To put this in perspective, the odds of winning a Powerball jackpot are "only" about 292.2 million to one. But you have to pay money to play Powerball and the PCH Sweepstakes is free. 
Another disadvantage of the sweepstakes is that the entry process includes wading through several pages of advertisements and offers. You'll probably receive a high volume of unwanted mail if you overlook the opt-out options, so take the time to read through what you're agreeing to when you're entering.
Publisher's Clearing House Sweepstakes Scams
Many people wonder if the PCH Sweepstakes are a scam. They aren't. PCH giveaways are closely watched by state regulatory commissions and legal agencies, and the drawings are made by an independent third party to ensure everything is done fairly.
The company has run afoul of state regulatory agencies for not making it clear that making purchases wouldn't influence the chances of winning, but Publishers Clearing House has changed their procedures and they're now giving away more prizes than ever.
A number of scammers do try to capitalize on the popularity of these sweepstakes, however. They use the PCH name to lure in victims. If you've received a prize notification from PCH and you aren't sure whether it's legit or not, you can verify your win in several ways, including contacting Publishers Clearing House directly. 
Sweepstakes Links
Now you're ready to get started.