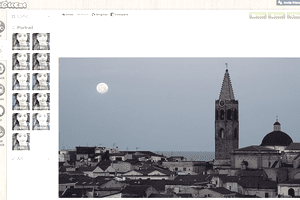 You should try PhotoCat if you're looking for a fun and free online image editor. There are plenty of features like frames and effects, but also some all-purpose tools like a spot remover and color replacer. Every tool is self-explanatory and the results are shown in real-time as you edit.
Opening & Saving Images With PhotoCat
PhotoCat lets you edit pictures you upload from your computer. There are no options for importing an image by any other means, like using an online URL or cloud storage service like some image editors allow.
When you're ready to save your edited image, you can save it back to your computer as either a JPG or PNG file. You can also share your photo on Twitter, Facebook, or Pinterest.
The Pros
Very easy to use
Supports sharing on social media sites
Provides lots of basic tools
All tools are nicely categorized
The Cons
Can't import images from anywhere but your computer
Supports just two file formats when saving
More About PhotoCat
PhotoCat keeps all its tools in following six categories: Edit, Effects, Retouch, Frames, Text, and Local retouch
Every tool you use in PhotoCat displays its results on your image automatically, in real-time, which makes for a much quicker experience and more realistic feel
At any time, you can click the Compare button to show your original picture next to the edited one. You can also revert back to the original image very easily, undoing all your edits with the Original button
Color Splash is a tool in PhotoCat that turns the whole photo black and white except for certain areas you want to keep colored, defined by your brush strokes
The crop tool can be adjusted manually or you can use several preset sizes like one for a Facebook cover image, a particular monitor resolution, or an iPhone
Brightness, contrast, saturation, sharpness, hue, cyan, purple, and yellow levels can be adjusted
PhotoCat lets you resize an image to any custom width or height pixels
20+ effects are available such as retro, film, HDR, lavender, black and white, fairy, studio, charcoal, and sketch. Each one has its own fade setting so you can adjust its intensity
The Retouch section includes things like a spray tan, blemish remover, eye enlarger, eye color changer, red eye remover, and lip tint tool
Over 20 frames and several textures can be instantly applied to any photo
Dozens of fonts are available so you can overlay text on an image, and there are also many ways to write text on things like bubbles and other objects
A color correction tool called Adjust Color lets you paint a new color over any existing one
PhotoCat also includes a blur tool that can blur the whole photo from a certain perspective, or you can use a brush to blur just specific parts of the image
My Thoughts on PhotoCat
Some image editors are built for fun so you can decorate an image, and others are more advanced, built for removing or adding objects, for example. PhotoCat is a little bit of both, which is certainly nice.
I've worked with a lot of online photo editors and PhotoCat is definitely one of the easier ones to use.
I like how clean and organized the interface is and how easy it is to apply a tool to a picture.
One thing I don't like about PhotoCat is that it doesn't let you import an image from social media sites like most other editors allow. It's also a little surprising that it only supports two file formats when you're ready to save/download your picture because there are a few less advanced editors that support several.