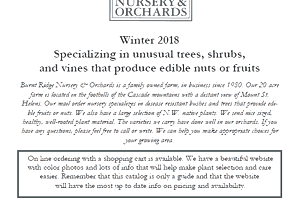 Inside this free catalog from Burnt Ridge Nursery & Orchards, you'll find fruiting plants, nut trees, ornamentals, northwest natives and other goodies like books, produce, seeds, jellies, and gifts.
This really is a beautiful free gardening catalog that is a thrill to look at.
How to Get a Free Burnt Ridge Nursery Catalog
You can get a free Burnt Ridge Nursery catalog by providing your name, mailing address, and email address.
Before your click the Send Request button be sure to specify if you'd like the Spring or Winter catalog mailed to you.
Restrictions on the Burnt Ridge Nursery Catalog
The Burnt Ridge Nursery catalog is mailed worldwide.