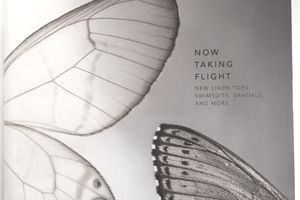 The Garnet Hill catalog is a free women's clothing catalog that is a misses clothing catalog / kids clothing catalog that sells the latest in women's fashion, kids' clothing, and beauty and fragrance items.
The Garnet Hill catalog is also a free home decor catalog selling bedding, furniture, rugs, decorative accessories, and more.
If you're looking for a gift catalog, you'll find gifts by occasion, price, and recipient inside the Garnet Hill catalog as well.
How to Request a Garnet Hill Catalog
If you'd like to request that a free Garnet Hill catalog be sent to your home, you'll need to visit Garnet Hill's Request a Catalog page on their website.
Before the form are the options for the catalogs you can request. You can get the Garnet Hill catalog and the Garnet Hill Kids catalog by putting a check in the box next to the ones you want. Then, fill out the form with your first and last name, full mailing address for where the catalog should be sent, and your email address.
Note: Right after the email address field is the option to sign up for emails from Garnet Hill, like promotions and new arrival notifications. You don't have to sign up for emails if you don't want to - you can get the catalog without doing it, but you do still have to provide your email address.
When you're done, click the Submit button to request the catalog. It should arrive in the mail in around 2 weeks.
If you'd rather, you should be able to request a free catalog by calling Garnet Hill using the phone numbers on their Contact Us page.
Garnet Hill Catalog Restrictions
The Garnet Hill catalog is sent out worldwide to those who request it. This includes the United States, Canada, and many other countries.
Other Catalogs Like the Garnet Hill Catalog
If you like the Garnet Hill catalog, you'll also like catalogs from ​Chadwicks, ​Alloy, ​Appleseed's, ​Delia's, L.L. Bean, Lands' End, and Chico's.
Other Ways to Shop at Garnet Hill
If you're shopping from the Garnet Hill catalog, an easy way to order the items online is to enter their item numbers in the boxes on the Catalog Quick Shop page. Otherwise, browsing for Garnet Hill products and ordering them online is easy to do from the Garnet Hill website at Garnethill.com.
On their website, you can look through menus like Women's Fashion, Shoes & Accessories, Bedding & Home, and Kids. In those menus are subsections for finding things like activewear, pants, tees, shorts, hats, socks, jewelry, bed sheets, lamps, jackets, dresses, boys clothes, leggings, and lots more.
Something I like about using the Garnet Hill website is that in each of those categories is a Now Trending, Top-Rated, and New Arrivals page that makes finding new and popular items really easy.
There's also a Clearance menu made specifically for finding discounted items. There's a Just Reduced page for the newly discounted things but also an Almost Gone page. Under this category is a $10 & Under section too, for finding really cheap items from all the categories combined into one simple page.
While browsing through the categories, you can filter the results by things like price, color, and size so you can be sure to find exactly what you're looking for.