Request a Free Jessica London Catalog
How to Get a Jessica London Clothing Catalog For Free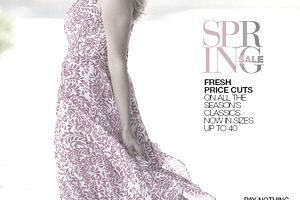 The Jessica London catalog is a free women's clothing catalog that is a plus size clothing catalog that features beautiful clothing in sizes 12-44 perfect for both professional wear and casual wear.

The Jessica London catalog offers high-quality fashions including tops and sweaters, suits and separates, dresses, outerwear, and bottoms. They also sell shoes and accessories, lingerie, and swimwear. 
How to Request a Jessica London Catalog
You can have a Jessica London catalog mailed to your home for free by visiting the Email & Catalog Preference Center page on the Jessica London website.
Under the Catalog Sign Up tab, fill out the form with your first and last name and the full mailing address for where the catalog should be sent.
When you're done with the catalog request form, click the Save and Submit button to send in your request for a free Jessica London catalog. You should receive your catalog in the mail in 2-4 weeks.
If you'd rather, you might be able to request a free Jessica London catalog over the phone at 1-800-781-9172 or via email here.
Free Catalogs From Sister Brands
You can also use Jessica London's website to sign up for some other catalogs from Jessica London sister brands. The good thing about this is that you can get multiple catalogs at once without having to fill out your mailing address each and every time.
To do this, just visit the same catalog page from above, but this time click on the tab called Get Emails and Catalogs from Our Sister Brands. You can scroll down that page and put a check in the Request a catalog box next to any of the catalogs you want to order.
Your options include Woman Within, Roaman's, King Size, and Brylane Home. There are others there too, but instead of print catalogs, you can just sign up for email alerts from them.
Just like with the Jessica London catalog, at the bottom of this page is where you'll need to fill in your name and mailing address.
Jessica London Catalog Restrictions
The Jessica London catalog is only sent to those who have United States addresses. Valid locations also include Guam, Koror, Federated States of Micronesia, Marshall Islands, American Samoa, Northern Mariana Islands, Puerto Rico, and US Virgin Islands, as well as AA/AE/AP addresses.
Other Catalogs Like the Jessica London Catalog
If you like the Jessica London catalog, you'll also like catalogs from Appleseed's, Alloy, Delia's, Lands' End, Garnet Hill, Chico's, and Chadwicks.
Other Ways to Shop at Jessica London
Jessica London products can be purchased directly through their website at Jessicalondon.com. It's easy to shop this way because you can just add any item you want to your shopping cart and checkout online.
Everything at Jessica London is categorized in menus like Shops, Suits & Separates, Coats & Jackets, Dresses, Tops & Sweaters, Pants & Skirts, Shoes & Accessories, Lingerie, and Swimwear. Plus, within each of those menus are some subsections for more specific things like trench coats, work pants, blouses, casual dresses, skirts, winter coats, jeans, sleepwear, and lots more.
Once you're in one of these menus and you're viewing the list of products, depending on what you're looking at, you can narrow down your search by things like size, color, length, and even sleeve length.
Jessica London's website also has a What's New menu where you can find what products are trending right now, what's been recently added to the website, director's picks, cheap deals.
The Clearance menu is a great way to find things under $10, $15, and $20, all in one place. This menu also holds discounted items in some of the aforementioned categories.