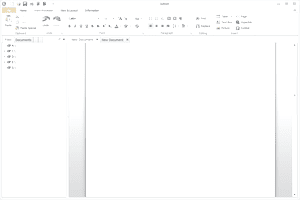 Judoom is a free word processor with a smooth and easy to use interface that resembles Microsoft Word.
While common features and formatting options are present, Judoom lacks in other areas when compared to similar word processors.
Pros
Documents open in separate tabs
Ribbon menu style
Supports all the essential formatting functions
Easy to use
Cons
No spell check
Some common word processor features aren't included
Large setup file
Description
Judoom works with Windows 8, 7, Vista, and XP
Popular file formats can be used, such as DOCX, ODT, and RTF
A side panel lets you browse through documents on your computer in a tree view
Keep track of two projects at once from the side panel to see all the documents they contain
In addition to basic formatting, you can double underline and strikethrough text as well as list things by bullets, numbers, and multilevel items
Judoom lets you add tables, images, and symbols
It's easy to change the margins, orientation, document size, number of columns, and line numbering options from the toolbar
You can use Judoom to change a document's background color
The menu can be minimized to provide a greater area for writing
My Thoughts on Judoom
If you've ever used Microsoft Word, you'll notice how similar the design is to Judoom. It's so easy to find menu items because of the ribbon style, and the program as a whole provides an intuitive feel.
I'm glad some of the more popular document file formats are allowed so you don't need to convert the documents to another format before using them in Judoom.
Some word processors don't allow automatic spell check but still let you run the tool manually. Judoom, however, doesn't allow spell check at all, which is a huge turn off. Also, adding headers, footers, and page numbers aren't allowed.
Aside from a few disadvantages, I think Judoom is a pretty good word processor.