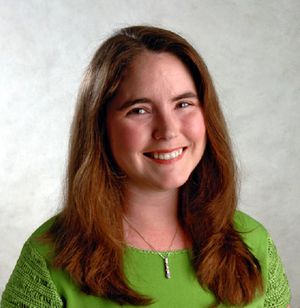 Sandra Grauschopf is a passionate sweeper with thousands of dollars worth of prize wins to her name. She has been writing and sharing advice about contests & sweepstakes on the web for more than nine years, and she loves nothing more than helping people uncover the fun, excitement, and camaraderie of the sweepstakes hobby.
Media Mentions and Other Appearances:
Appeared on Better.tv, the online television station of Better Homes and Gardens.
Interview in the book, The Million-Dollar Idea in Everyone by Michael Collins.
Interview in the book You Can't Win if You Don't Enter by Carolyn Wilman.
Featured speaker at the 2008 Hershey Mini Sweepstakes Convention.
Quoted in The Chicago Tribune's article, Easy Money but Hard Living.
Quoted in CBC News' article,  How to roll up the rim without buying coffee.
Interviewed in Woman's World Magazine's "Ask America's Ultimate Experts" column published on March 10, 2010.
Interviewed for MainStreet.com's article, Super Sweepstakes: More Than a Giveaway.
Interviewed in Woman's World Magazine's "Ask America's Ultimate Experts" column: "I Want to Win Cash and Prizes!" published on October 31, 2011.
Featured on Fusion TV's segment, "Meet the Sweepers"
Interviewed for NPR On the Media's podcast, Win a Million Dollar Mansion from Your Home Computer
Interviewed in a two-part series on ABC 15 in Arizona's "Let Joe Know" Segment: 9 Easy Ways to Avoid Sweepstakes Scams and 3 Secret Tips to Winning Sweepstakes
Interviewed in Woman's World Magazine's "Ask America's Ultimate Experts" column: "I Want to Win Sweepstakes and Lotteries!" published on March 23, 2015.
Contributing blogger at ContestMob.com.
Has consulted for major companies, contributing strategies to use sweepstakes to create more revenue.
Sweepstakes Interview Requests:
I am always happy to participate in interviews or radio or television appearances. Email Sandra for interviews, book reviews, and other commentary about sweepstakes and their benefits for consumers and for businesses.
Experience
Sandra Grauschopf has been working in the contest industry since 2002. She is a passionate sweeper who is actively involved in the sweepstakes community, and she has managed a sweepstakes website and a contests forum as well as being the Contests and Sweepstakes Expert for About.com and for The Balance.
Sandra Grauschopf
From the moment I received my first prize win I've been hooked on sweepstakes! My years of experience as a passionate sweeper and as a professional writer have taught me how to present the information you need to know about sweepstakes and contests so that it's simple, clear, and accessible to beginners and experienced sweepers alike. I'm looking forward to showing you the smartest and most efficient ways to enter contests and sweepstakes and helping you win fabulous sweepstakes prizes!
Article Reprints:
All Sandra Grauschopf's writing is covered by US copyright law. Copying or reusing the photos and information here is not permitted without permission.
Promoting Contests and Sweepstakes:
If you have sweepstakes that you'd like to submit for review, the easiest way is to use the Sweepstakes Submission Form.
Sandra Grauschopf on Social Media:
For additional sweepstakes tips and advice, you can follow Sandra Grauschopf on the following social media sites:
Advertising Info:
The Balance has an advertising department that handles all advertisements on this site. Sandra Grauschopf is not involved in advertising decisions, and does not accept money or other consideration for posting specific giveaways or giving them special promotion.