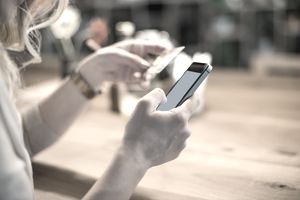 Everyone is familiar with Amazon.com, and most people know that you can find great deals on the site. In fact, some big box stores have revealed recently that they have felt threatened by the fact that people browse their retail locations to try out products, and then buy those items at a discount on Amazon.

Indeed, shopping online allows you to save money, especially since many products are shipped at no charge and arrive on your doorstep in just two days.
Combined with the savings on gasoline that you don't need to waste driving around looking for deals, you can really save a bundle shopping this way.
To maximize your Amazon savings, consider downloading the company's mobile app, which is free for Android and Apple devices. The following three tips will help you optimize your savings using the Amazon app.
Turn on Notifications for Lightning Deals
Many seasoned online shoppers are familiar with Amazon's annual Black Friday deal offers, which change throughout the day and sell out quickly. You have to pay careful attention to each deal, which is available usually for just a few hours before it expires, and if you miss the timeframe, you're out of luck. What many people don't realize, however, is that Amazon offers similar sales (known as gold box "lightning deals") every day.

For example, a Mr. Coffee Single-Serve Coffee Brewer Powered by Keurig Technology was purchased using a lightning deal for just $59.
This product normally sold for $79 on Amazon, so the lightning deal allowed me to save $20.
How the App Helps You
Sitting at your computer throughout the day to find out the deal of the day or the lightning deals (which are typically updated every three to six hours) is not practical for most people, but creating a notification on your Amazon mobile app just requires the tap of a screen, and you'll get notified every time a new deal is posted.


If you aren't interested in getting notified of every deal, but you still want the option of checking them at your convenience, just open the app, click "more" on the bottom right, and then click "today's deals." It will bring up a screen, showing you the daily deal and the hourly deals as well.
Scan for Price Checks
You may already do this with your Red Laser App or one of the other apps that allow you to scan a product's UPC code to find the best deals online and locally, but the Amazon app has this feature built-in as well.
How It Works
If you're browsing for a product in a store and you're wondering whether Amazon has a better deal on it, you can either take a photograph of that item or scan the UPC symbol, and the app will automatically tell you the price of the same item on Amazon. If you use the feature where you take a photo of the item, the app says it works best with video games, CDs, and DVDs, but I took a photo of a book I was interested in buying and Amazon found its price for that same item almost immediately.
To access this feature on the Amazon app, you'll just tap the word "search" at the bottom of your screen, and the app will take you to the screen that allows you to either photograph or scan the item you want to price check.
Subscribe and Save
If you open the Amazon app and go to the "more" option at the bottom right of your screen, one of the options is "your subscribe and save." Once you tap that, it will show you some subscribe and save recommendations. If you join the program, you'll benefit from significant savings on those products.
How It Works
You'll select certain Amazon products that you want to order on a regular basis. Click on the product you want to order, then determine how often you want that item delivered to you (typically either monthly, or every few months). You'll save five percent off of that item's standard price if you subscribe to fewer than five products. If you have five or more products delivered in the same month on the subscription plan, you'll save 15 percent off of your entire bill.
For example: At one time or another, I've had the following items delivered to me each month, allowing me to save 15 percent with each purchase:
The normal price to buy these items on Amazon would have been $91.83, but my subscriptions reduced the total price to $78.06, giving me $13.77 in savings.