Stores that Accept Competitors' Coupons
Where to Redeem Competitors' Coupons or Get a Price Match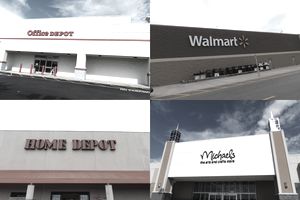 Lots of stores accept their competitor's coupons or have a price-matching policy. Here are several. Check the current policy, which in most cases is linked, as it can change without notice.
Grocery Stores that Accept Competitors' Coupons
Bi-Lo: The policy generally restricts competitors' coupons to one per like item, one per day per customer. They must be coupons and not competitor advertised prices.
Giant: Accepts competitors' coupons with some restrictions.
Harris Teeter: Competitors' paper manufacturer coupons are accepted, one per day, but they don't accept internet coupons from competitors.
Kroger and Fred Meyer: Accept only pharmacy competitor coupons.
Lowes Foods: They accept local supermarket or supercenter coupons for dollars off the entire order, but not for savings on an individual item. They don't accept drug store or club store coupons.
Price Chopper: Accepts all competitors' coupons, but must be presented at the beginning of the order, and you must use an AdvantEdge Card. Accepts up to four like coupons per household per day.
Publix: Accepts competitors' coupons, with lists posted at each Publix store. Coupons from competing pharmacies are accepted for prescriptions only. Limit of eight of the same coupons per day, per household.
Home Improvement Stores
Lowe's: Will beat the competitor's current ad by 10% or match the percent off discount.
Menards: Printed coupons accepted from local competitors, with restrictions.
Big-Box Stores
Walmart: Competitors' coupons must be for a specific item for a specified price, or buy one/get one free coupons for items with a specified price.
Bed Bath & Beyond: You can use a competitor's coupon, or you can match the competitor's price, but you can't combine the two.
Target: Has a price match guarantee. They will match the price of a competitor's local print ad and select online competitors.
Craft Stores
Jo-Ann: Will match prices from ads by competitors. Bring the original or current ad. It excludes special buys, liquidations, doorbusters or club purchases.
Michaels: Their coupon policy page doesn't discuss competitors' coupons, but in other places including a Facebook page, they say that they accept competitor coupons, with restrictions.
Hobby Lobby: Honors competitors' ads in-store if a specific price is listed and they stock the exact same item, but they don't honor percent off ads or coupons. They exclude holiday specials, clearance items and have other restrictions.
Office Supply Stores
Office Depot/Office Max: Has a price match guarantee, including those of online retailers such as Amazon.com
Staples: They will price match select competitors for identical items.
Pet Stores
PetSmart: They accept competitors' printed coupons for the exact items, including BOGO, money off, percent off or free. However, they don't accept coupons for services or live pets.
Sporting Goods Stores
Dick's Sporting Goods: With their "Winning Pirce Guarantee," they will match lower prices from retail ads for identical items at local competitor retail stores, but not coupons or BOGO offers.
Modell's Sporting Goods: In-store, accepts competitors' printed coupons for identical items.
Tips for Redeeming Competitors' Coupons
Cashiers aren't always as familiar with the store's coupon policy as they should be. Print a copy of the policy, and bring it with you, in case any problems arise.
Be polite and courteous - a smile and a kind word go a long way in getting coupons honored.
If your polite request and printed proof of the policy isn't enough for the cashier, politely request to talk to a manager.
For stores not listed, it never hurts to ask if a competitor's coupon will be honored or a price match can be given.