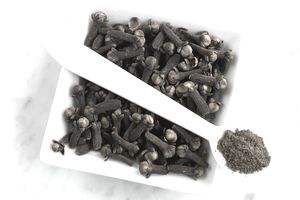 When a recipe calls for whole or ground cloves, and you don't have any on hand (or can't bring yourself to fork over $7 for a small jar), just grab one of these simple substitutes. They'll give you the flavor you're after.
Ground Clove Substitute
Use one teaspoon of whole cloves in place of 3/4 teaspoon of ground cloves (so that's 1-1/3 times as many whole cloves as ground cloves).
If you don't have whole cloves, you can also substitute the ground cloves called for in the recipe with an equal amount of allspice.
Out of allspice, too? Not a problem. Just use nutmeg or cinnamon instead (or do a 50-50 blend of the two, if you have both). Cinnamon isn't quite as sweet as cloves, so if you're using it in a dessert recipe, you may want to add a splash of vanilla extract to sweeten it a bit.
Whole Clove Substitute
Use 3/4 teaspoon of ground cloves in place of one teaspoon of whole cloves (so that's 1/4 teaspoon fewer ground cloves for each teaspoon of whole cloves that you're replacing).
Note that using ground cloves in place of whole cloves will change the color and flavor of your recipe some. When you use whole cloves, you usually remove them before serving the food/drink, so they impart a more subtle flavor and don't contribute much to the color of the finished dish. If your recipe calls for poking whole cloves into meat or oranges, you'll probably want to stick with the real thing. There's just no substitution for the dramatic presentation that that creates.
What Do Cloves Taste Like?
Cloves have a sweet, warm flavor, and are intensely aromatic. They pair well with allspice, cinnamon, nutmeg, vanilla and citrus flavors, and work just as well in savory dishes as in sweet dishes.
Cloves are used in recipes throughout the world. You'll find them in meat dishes and curries, flavoring fruits and marinades and even in drinks, like wine and cider.
How to Save Money on Whole Cloves
If you're hesitant to buy whole cloves because of the price, consider purchasing them at an international grocery store.
They figure heavily in Indian food, so you can usually find them at a good price at an Indian grocery store. 
The bulk bins at your local grocery or health foods store is another option. They're great because they allow you to buy just what you need and not a clove more. If none of these are an option in your area, ordering online is probably your best bet.
Tip: Grind whole cloves just before you use them to get the best flavor and fragrance. A mortar and pestle or coffee/spice grinder make quick work of the grinding.