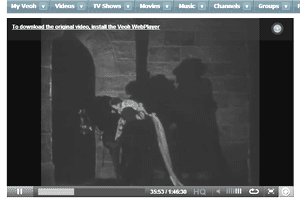 Veoh is a video streaming website that has free movies and TV shows, both short and full length ones, in many different genres.
Read through this review of Veoh to learn about the types of movies you can expect to find, as well as what I think about the video quality, among other things.
Small Selection of Full Length Movies
Veoh is different than a lot of other movie streaming websites because while there are millions of videos on the website, comprised of over 130,000 movies, only around 1,500 of them are longer than 60 minutes (the length of regular films), and of those, a mere 300 are English movies.
So while there are lots and lots of videos to watch, Veoh doesn't have the largest collection of regular-length movies. Though there may be movies you'll enjoy that are less than 60 minutes, and films that are in a language other than English.
With that being said, I still enjoyed a handful of the movies that are available.
You can browse the movies by genre, such as Drama, Family, Horror, Romance, Cartoon, Comedy, and Action/Adventure, while the TV shows are sectioned off by genres like Game Shows, Soap Opera, Anime, Talk Shows, Travel, and Documentary/Biography.
No matter the category you're in, there are very specific ways you can find films by letting the subtitle language, length, and/or audio language be filtered, and you can sort the movies by recently added, popularity, title, or length.
TV shows are a little different, letting you filter them by clips or full episodes to ensure you're finding full length videos, but you can also filter them by language.
Veoh Has Standard Quality Videos
I sampled five of Veoh's movies and found that each of them to have a HQ button that can be toggled on or off for a high quality version of the video.
I'd say the high quality videos were somewhere around regular DVD quality, and not necessarily anything but standard quality. However, the non-HQ version of the films were less than DVD-like quality.
In other words, turning on high quality seemed to make the videos clearer and look nicer, but they didn't result in anything more than a standard quality video.
Veoh's Player Options
There are a few things that are somewhat unique to Veoh's video player versus ones found on other movie streaming websites.
You can can open a film in full screen mode, like most other sites, but you can also click a small button to expand the video size but not make it quite full screen, which is useful for a larger viewing but not so large that it consumes the whole page.
Also, unlike similar websites that require you to choose a specific quality when changing to high definition, you can simply click the HQ button at Veoh to increase the quality. It's one button and it takes effect nearly immediately by pausing the video for just a second.
Some movies I encountered on Veoh had a different video player than most of the others, but many of the buttons functioned in the same way.
Below each video are some useful buttons that let you do more, such as recommend the movie on Google Plus, add it to your list of favorite videos, or share the film over email.
I Didn't Find Any In-Video Ads on Veoh
Of the 5 random videos I watched on Veoh, none of them showed me any advertisements, either at the beginning of the film, middle, or end.
This is of course surprising given Veoh is a free service and that similar sites, such as Sony Crackle, have lots of advertisements.
My Video Buffering Experience With Veoh
Buffering takes a longer time with videos from Veoh than with any other movie streaming website I've used. It's not a huge problem, but it does often take 5-10 seconds for movies to fully load before they begin playing. 
Also, when I would skip forward through a video, I would have to wait around the same amount of time before it would being playing again.
I don't see this this as a gigantic setback by any means, especially considering Veoh is a free website, but it's important to note anyway.
Veoh Has a Mobile App
While it's true that Veoh has an app for mobile devices, I was unable to get it to run properly on my device, so I can't comment on how well it works.
Veoh: Final Thoughts
I have an overall negative view of Veoh when thinking about using it for watching movies. I know there are TV episodes and dozens of movies, but most of the films are very old, and sorting through them seems like a hassle.
Don't get me wrong though, Veoh has lots and lots of videos, and of course hundreds of full length English movies, but it's still just not as pleasing to use as similar sites like Popcornflix and Viewster.
Though it's great if you can find a good movie on Veoh because there will likely be no advertisements in it, which is rare for a movie streaming site.