Visit SnagFilms for Free Streaming Documentaries
Watch Free Movies & TV at SnagFilms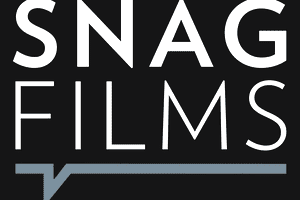 SnagFilms was launched in July of 2008 by Ted Leonsis, and is one of the most unique websites to watch free online movies. 
SnagFilms stands out because it has a great social environment where you can share your favorite videos and get trusted recommendations for the next film you watch.
SnagFilms is also really easy to use. Finding films isn't hard at all and the website is designed to very clearly split up the movies from the TV shows, which some similar movie streaming websites don't do.
Free Streaming Movies at SnagFilms
SnagFilms has thousands of advertiser supported free documentary films you can stream online. You can find your next movie by viewing the films by just added, most reviewed, A-Z, or most popular.
There's also an option to search by title if you already know what you're looking for.
There are genre specific channels at SnagFilms where you can look for Action, Comedy, Drama, Festivals, LGBT, Documentaries, Music, Politics, Shorts, Sports, Thrillers, and more.
The films at SnagFilms can be saved to a queue so you can come back and easily view movies that you've saved earlier. However, to do that, you must login to your SnagFilms user account (it's free).
Free Streaming TV Shows at SnagFilms
You can also use SnagFilms to watch free TV shows, though there currently isn't a large selection of them to choose from.
The shows at SnagFilms aren't categorized in genres like with the movies. Instead, they're grouped together by sections, some of which have been "Guilt-Free TV," "Comedy Series," "Kids and Family," and "World History." 
SnagFilms' Collections
SnagFilms has a unique way that they present documentaries to users, by collections. It makes for an interesting way to find video that have been handpicked for you by the SnagFilms' editors.
Some of the more recent collections include "Before They Were Stars", "History Lessons," and "Celebrate Gay Pride."  
Users can also create collections from the SnagFilms movie library from scratch or remix an existing collection.
Networks at SnagFilms
When you view films at SnagFilms you'll also have the ability to recommend films to your followers or share your favorite documentaries with friends on Facebook and Twitter.
You can also grade the videos at SnagFilms (between A and F) so that other viewers can quickly get a glimpse of what visitors think of the film. Commenting is also allowed.
Accessing SnagFilms
Besides being able to access SnagFilms on your computer, there are free apps for SnagFilms at iTunes, Google Play, Windows 8, Xbox 360, BlackBerry, Roku, Boxee, and Amazon Kindle.
Some videos at SnagFilms are meant for a mature audience, and so those videos can only be accessed if you're over a certain age. You'll be prompted to enter your birthdate before watching those types of movies or TV shows.
The films from SnagFilms are often shown on their affiliated sites too, like Hulu, IMDb, XFINITY TV, Huffington Post, non-profits, blogs, and more.
Where SnagFilms Gets Its Movies
SnagFilms gets its documentary films from PBS, National Geographic, and filmmaker submissions.