Watch Documentary Review
My Thoughts on Watch Documentary, a Free Movie & TV Show Streaming Service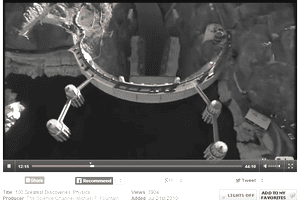 Note: The Watch Documentary website is no longer operational. Click through the links below to find some other free movie streaming websites.
Watch Documentary is a free movie streaming website that offers thousands of full length documentaries and TV shows.
Read on to find out what type of video quality and movie selection you can expect on Watch Documentary, what I think about the advertisements, and more.
Huge Variety of Movies
Watch Documentary has a whopping 30+ categories where you can find different types of documentaries. I like the variety here because you can find anything from Psychology and Science movies to Drugs, Crime, History, Comedy, and Mystery documentaries.
On top of the many genres, you can browse for films by series, many of which have dozens of full length episodes.
I also like that you can view all documentaries in one giant list if you'd rather not search by genre. In addition to this, you can view just the top/popular ones or those that were most recently added.
Next to each video are a few sections that help you find related content, which can be very handy. For example, a "Related," "Same Producer," and "Best in Category" link help you find such films with ease.
Video Quality Will Vary
It really depends on the movie you're watching as to what the quality will be.
Of several videos I looked at on Watch Documentary, I found full HD ones, standard, DVD quality videos, and films that were obviously less than standard quality that looked awful in full screen mode.
Watch Documentary's Player Options
Watch Documentary's video player may appear different depending on the video that's playing. All of them that I ran across, though, have the same simple settings like letting you control the volume, enter full screen mode, and rewind/fast forward.
One video player was even in Chinese, but, again, the regular buttons were easily discernible regardless of the its foreign language.
Another one I found let you make the video player larger but not entirely full screen, which can be helpful if you just want a bigger, close up player.
You can also use the Lights Off button below each video to darken the page, but it actually darkens the video player too, which is hardly useful. Additional buttons are available so you can share the video over various social media sites, and one for adding the film to your list of favorites.
Overall, I think these options are unfortunately not has useful as those you'd find in similar websites, such as Crackle, which offer subtitles. However, I do appreciate the fact that you can open a film in full screen.
Very Little Advertising
Unlike most other movie streaming websites, such as Yidio and Viewster, I didn't find very many advertisements on Watch Documentary.
Some movies showed a brief advertisement at the beginning, before the video played, but every other one I tested out were completely free of commercials, which is surprising for a free website.
My Video Buffering Experience with Watch Documentary
I didn't have any problem whatsoever with buffing of the large majority of the movies I opened on Watch Documentary.
However, some videos paused for a long time while fast forwarding, and some took longer than I'd expect at starting up.
Buffering experience will depend partly on the speed of your own Internet connection, computer, and like video quality, on the movie you've selected.
Watch Documentary's App Isn't The Best
A free movie app is available for Watch Documentary on Android devices, and a paid one for iOS, but it's not as good as most other movie streaming apps, such as Popcornflix's and SnagFilms'.
You can find movies by a manual search, their category, most viewed, or recently added, like on the website, and even add movies to your favorites to view them through the website on a computer. However, the movies I tested on the Android app took a really long time to start playing, which is too bad.
Watch Documentary: Final Thoughts
There's a lot of flip flop in this review of Watch Documentary because it seems to depend on the specific movie you're watching as to whether you'll be able to watch it in HD, will have buffering issues, or will have certain video player options.
Though I still like that there's a huge number of documentaries and advertisements are hardly seen. So for the most part, I think you'll enjoy what you find at Watch Documentary, regardless of some of its downfalls.
Learn More About Watch Documentary