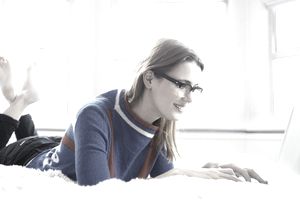 There are so many free streaming movies and downloadable movies on the Internet right now that you can view hundreds of new movies and some old favorites. Watching these movies gives you more options, tons of convenience, and saves money as well.
To make sure that you get the most out of your movie watching experience, there are few things you need to make sure that everything goes smoothly.
Here's a list of the software, hardware, and Internet connection you'll need.
Necessary Software & Hardware
Regardless of the movie website you're going to use, an Internet browser is required to watch the movies. In addition to a web browser, software, hardware, and settings must be installed or enabled to successfully watch videos.
These are the required programs and setting adjustments that must be made for most, if not all, movie streaming websites:
An Internet browser like Chrome, Firefox, Safari, Opera, or Internet Explorer (the one you're using now is probably fine)
An updated version of Adobe Flash needs to be installed
JavaScript and cookies must be enabled (these are normally enabled by default)
You'll also, obviously I'm sure, need a working computer with some way to listen to the free movies, like speakers or headphones.
For specific requirements on the website, you're wanting to use, see the "Requirements" section at the bottom of the movie's profile page.
High-Speed Internet is Preferred
In addition to the above, you'll need an Internet connection suitable for streaming videos.
Streaming movies require an active Internet connection so your computer can reach the website you're wanting to use for watching the films.
The Internet connection you're using right now is sufficient enough for viewing web pages, but it may or may not be ideal for certain videos.
Many websites that offer free movies have high-quality ones, like Watch Documentary and SnagFilms.
Viewing high-quality movies requires a greater network speed, which is why high-speed Internet is best for streaming most online movies.
With lower quality movies, you may be able to watch it without any problems even if you have a slower Internet connection.
Many websites require you to have an Internet connection capable of downloading at least 1 Mbps to avoid problems with videos buffering or skipping while you're trying to watch them. I recommend a higher speed if you know you'll be watching high-quality movies.
You can see the speed at which your Internet connection operates at by testing it at an Internet speed test site.
Of course, you could always try to watch movies regardless of how fast your Internet connection is, as they may play just fine for you if you give them plenty of time to load.
You Can Watch Movies From Nearly Any Device
Several free movie streaming websites have dedicated, free mobile apps that let you watch their films away from your computer and on a phone, smart TV, tablet, or another device. See my list of free movie apps for specifics.
However, some websites either don't work as well from a mobile device or don't support them, so a desktop or laptop computer would be necessary in those cases.
If you're using a desktop or laptop, it doesn't matter if you're running Windows, Mac, Linux, etc. As long as you have the appropriate browser and other software installed, it doesn't matter what operating system you're using.