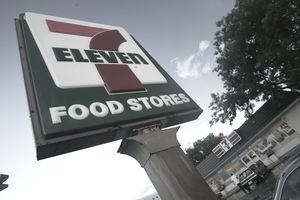 Heading out to 7-Eleven? Before you go, check out this list of 7-Eleven freebies and find out how you can get free food, Slurpees, and even free Redbox rentals at your local 7-Eleven.
Free Food at 7-Eleven
Believe it or not, you can actually get free food at 7-Eleven with their 7-Eleven app available for iPhone and Android phones. Here are the current 7-Eleven freebies:
No offers at this time.
After downloading their app, click on the Scan and Save section on the right side menu.
 There you'll be able to see all the 7-Eleven coupons available which often include one coupon to get something completely for free, no purchase necessary.
When you're ready to check out, hand your phone over to the cashier and he will scan the barcode to apply the coupon. You'll get the item for free, and you won't even have to pay taxes.
Click on the free food coupon to view the details of the coupon and find out the 7-Eleven's near you that are participating in the offer. It will also show the expiration date.
Free Slurpees from 7-Eleven
Every summer on July 11th, 7-Eleven celebrates Free Slurpee Day by giving customers a small Slurpee in any available flavor.
Free 7-Eleven Redbox Rentals
Many 7-Eleven's have Redbox kiosks outside and there are lots of codes available that will get you free Redbox movies and games rentals. Here's a list of free Redbox codes that you can use at 7-Eleven.
Also keep your eyes open for 7-Eleven specific Redbox promotions that may appear on signs on the Redbox kiosk or on your receipt.