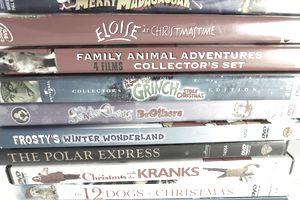 Interested in thinning out your movie collection? Here's where to sell those used movies for maximum profit:
Secondspin.com - They're the largest online retailer of used DVDs. Just enter what you have, and they'll tell you if they're buying it, and how much they're willing to pay.
Half.com - You can sometimes get more money by listing your movies on Half, but you'll have to wait for a buyer to come along. If you have newer, sought-after movies, it's probably worth the time that it takes to list your stuff, otherwise, you're probably better off taking an immediate offer from someone else.
Used Movie Selling Tips
Don't pay to ship your items. The best used movie retailers pick up the shipping costs.
Offers vary from reseller to reseller, so check with a few before you decide whom to sell to.
Be up front about the condition of your movies. If the disk is all scratched up, don't bother trying to sell it. It'll just get rejected by the seller when they receive it. Universal Studios and some other studios offer low-cost replacment for disk that have been scratched or broken. It may be something to look into.
A Warning About Selling Movies You've Converted to Digital Copies
If you used a service like Vudu to do a disc to digital conversion, or you have a movie that came with an UltraViolet copy, know that selling your original copy of the movie after you've converted it may not be such a hot idea. While it's still very much a grey area, selling the actual physical copy of a movie could be interpreted as breaking the licensing agreement or copyright law because you still retain a digital copy of the movie. This means two separate households have access to the movie -- one through the disc and one through the digital file -- and that's not what the studios intended. The law has some catching up to do on this issue, but it's probably best to stay clear of this problem. If you don't want a bunch of movies taking up space in your home, switch to buying digital files. They don't require shelf space or dusting.