Baby Sweepstakes - Win Free Baby Stuff and Prizes for Children
Win prizes for babies and children with free baby sweepstakes & contests.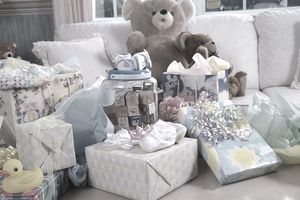 Win baby stuff for free with the baby sweepstakes on this list. Here you'll find current, legitimate sweepstakes with prizes for babies and children. Enter to win free baby formula, nursery or children's bedroom makeovers, free diapers, maternity sweepstakes, free baby products, and much more.
1. Brightly - Family Summer Fun Pack Sweepstakes
If your kid loves to read, enter here for a chance to win 50 children's books and a gift card, a prize worth $2,000.

Entry Frequency: One time per person
End Date: June 22nd, 2018
Eligibility: Open to the U.S.
More Information about this Sweepstakes
Enter Sweepstakes Directly
2. ISeeMe - Bundle of Joy Sweepstakes
Enter for your chance to win baby prize packs worth $1,550 or $760.
Entry Frequency: One time per person
End Date: June 30th, 2018
Eligibility: Open to the U.S.
More Information about this Sweepstakes
Enter Sweepstakes Directly
3. Amazon.com - Baby Registry Sweepstakes
Enter to win one of four $2,500 Amazon gift cards for creating a baby registry.
Entry Frequency: 1 x monthly per person/email
End Date: June 30th, 2018
Eligibility: Open to the U.S.
More Information about this Sweepstakes
Enter Sweepstakes Directly
4. What to Expect - Baby Bump Giveaway
Here's your shot at a free $1,500 Amazon.com gift card.
Entry Frequency: One time per person/email
End Date: June 30th, 2018
Eligibility: Open to the U.S.
More Information about this Sweepstakes
Enter Sweepstakes Directly
5. Luvs - 2017 Diapers for a Year Sweepstakes
Enter and you could win one of 12 one-year supplies of Luvs Diapers valued at almost $600 each.
Entry Frequency: 1 x daily per person/email
End Date: June 30th, 2018
Eligibility: Open to the U.S.
More Information about this Sweepstakes
Enter Sweepstakes Directly
6. Baby Earth - Ergobaby Giveaway
Here's your chance to take home an Ergobaby 180 reversible stroller valued at almost $400.
Entry Frequency: One time per person
End Date: July 2nd, 2018
Eligibility: Open to the U.S.
More Information about this Sweepstakes
Enter Sweepstakes Directly
7. Family Media - Ultimate Stroller Giveaway
Enter to win one of over 50 premium strollers for your baby.
Entry Frequency: One time per person
End Date: October 5th, 2018
Eligibility: Open to the U.S.
More Information about this Sweepstakes
Enter Sweepstakes Directly
8. Similac Strong Moms - Be Ready for Baby Giveaway
40 people who enter this sweepstakes will each receive gift cards to Gift of College and Buy Buy Baby worth $1,050 in total.
Entry Frequency: 1 x weekly per person/email
End Date: December 31st, 2018
Eligibility: Open to the U.S.
More Information about this Sweepstakes
Enter Sweepstakes Directly
9. Destination Maternity - Free Diapers for a Year Sweepstakes
Enter and you could be one of six lucky winners to receive a one-year supply of free diapers awarded as a $864 Visa gift card.
Entry Frequency: 1 x monthly per person/email
End Date: January 31st, 2019
Eligibility: Open to the U.S.
More Information about this Sweepstakes
Enter Sweepstakes Directly
10. EverydayFamily - Diapers for a Year Sweepstakes
Here's your shot at free diapers for a year valued at $750.
Entry Frequency: 10 x daily per person
End Date: June 30th, 2019
Eligibility: Open to the U.S.
More Information about this Sweepstakes
Enter Sweepstakes Directly